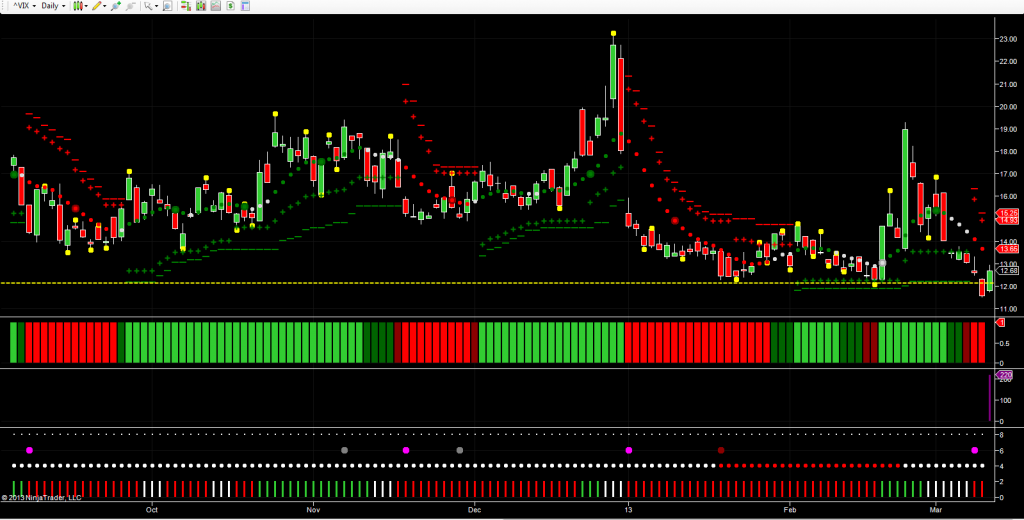 The alarm bells are starting to ring, as the VIX pushes ever lower on the daily chart, moving inexorably towards single figures where danger awaits. In today's trading session the index is trading marginally higher following yesterday's move lower to test the key support region in the 12.10 area, and at time of writing is currently trading at 12.51 on the daily chart.
The VIX of course is the ultimate fear indicator, and with equity markets continuing to rise relentlessly, the VIX is falling with equal speed, and the longer that this continues, then the more likely is the prospect of a major reversal, with risk appetite draining fast and money flowing back into safe haven assets. From a technical perspective the daily chart remains firmly bearish, and despite today's modest move higher, the daily trend remains bearish, and should the three day trend also transition from congestion to bearish, then this will reinforce further bullish sentiment for equity markets. However, with the index at such low levels, it's not a question of if, but when, and this is the problem. The VIX could indeed remain at these levels for some time, and has done in the past. The fact that these levels are being tested does not mean that the market will reverse overnight.
What it does mean however, is that all that is required is a minor market shock or other catalysts, to send equities over the edge and markets selling off sharply. For those with healthy profits on the table, it may be worth considering taking some of them off the table soon!
By Anna Coulling
Come and join my live training room and discover why in today's complex markets price behaviour holds the key to your trading success.