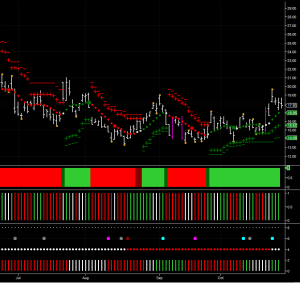 Last week was one best described as a game of two halves, with the volatility of the first half of the week, which saw the VIX index jump to test the underside of the 20 price level, subside in the second half of the week as equity markets, and many others, simply drifted sideways. The key point for us as traders is that this bullish momentum was first signaled back in late September, with the daily trading indicator leading the way, followed shortly after by the daily trend, which has remained almost continuously green since then, with only a minor pause two weeks ago.
Last week was perhaps more significant for the change in the three day trend, which has now appears to be in transition, moving from bearish to white, and supported by a change in volume from selling to both no demand and buying.Since the early part of October we have seen two aggressive entry signals, both based on volume, and with sold buying on the daily chart we can expect to see this confirmed in due course, with a conservative set up shortly.
The key technical level is now in the 20 region, and indeed Tuesday's price action subsequently led to an isolated pivot high being created with the market moving lower as expected from this signal. Below we have a strong platform of price support now in place at the 16.95, and this should provide the springboard for a further move higher for the VIX in due course, with a consequent sell off in the equity markets. If the index climbs higher, then 22-25 becomes the next target area, with further falls in stock markets around the world.
By Anna Coulling