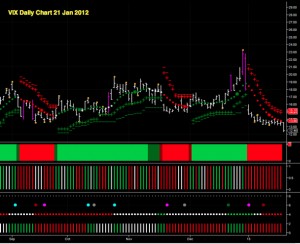 With US markets closed today for the Presidential inauguration ceremony, this gives us a chance to look back at last week's price action in a variety of markets, where perhaps the most seminal occurred in the VIX on the daily chart.
Since the start of the new year, and despite the bullish momentum for equities, the VIX has remained range bound trading between 13.20 to the downside and 14.15 to the upside. However, last Friday's price action finally gave us a clear breakout signal from this narrow range with the index ending the week and the trading session with a wide spread down bar closing at 12.46.
The importance of this price action cannot be under estimated as we now have a strong and sustained price resistance above with the index now starting to move down towards the single figure region where we can expect to see further market complacency.  In the short term, of course, this is good news for equity bulls as they can expect further gains as the VIX moves lower and money flows into riskier assets.
Friday's sharp move lower for the VIX was assisted by the better than expected earnings for bellwether stock GE which sent a strong signal to the markets that China's economy was no longer slowing.   Indeed the Q4 yoy GDP number for China came in at 7.9%, marginally above the 7.8% which had been forecast, giving markets a sense a relief that the slide in the global economy may have finally slowed.  While GE's revenue growth in China had in fact slowed, nevertheless the bellwether stock reported at 17% jump in pre-tax profits for the quarter with much of the growth coming from emerging markets.
To return to the chart both the daily and three day trends remain remain firmly bearish and with sustained and consistent bearish volumes on both these time frames the VIX is heading firmly south with the first significant price area being the psychological 10.  Any move below here will see the VIX test the lows last seen in 2006 of 9.39 which ultimately where the precursor to a present financial crisis of 2008.  However, we must always bear in mind that markets can trade in these over extended price zones for a considerable time as indeed was the case with the VIX back in 2006 where it remained in this region for a period of 2 to 3 years.  So plenty of time for complacency to set in!!
By Anna Coulling