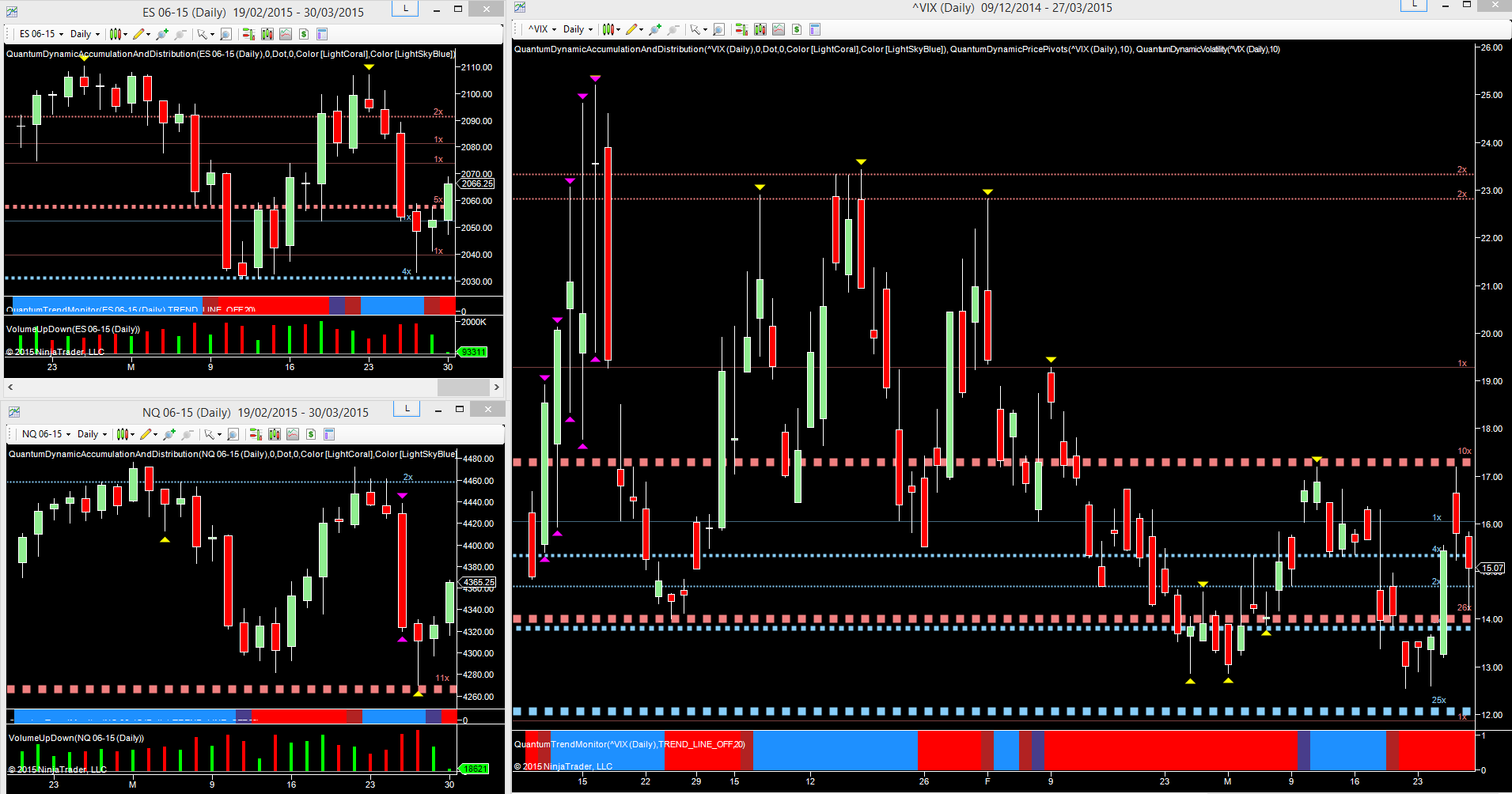 It was another roller-coaster ride for US equities last week, with Wednesday's dramatic move lower on global tensions in the Yemen, reversing at a stroke the gains of earlier in the month. Thursday's price action then confirmed the short term nature of this knee jerk reaction, and indeed in Thursday's live day trading room I suggested this was indeed the case, and that this was simply yet another market correction and a stop hunting exercise by the insiders with the market likely to rally as a result. This morning's price action has added further confirmation to this view, with both the ES and the NQ rising strongly following equally strong gains for the Nikkei in overnight trading which saw the principle Japanese index rise over 125 points in the session to close at 19,411.40. The NQ has broken through the deep resistance in the 2060 region to currently trade at 2066.25, with the NQ trading at 4364.50, with the platform of support on Thursday clearly evident in the 4260 area.
Moving to the VIX on the right, the sharp move higher for the index which reflected the move lower for equities, hit the ceiling of resistance in the 17.20 area before closing lower on Friday at 15.07, and with this morning's rally well underway, we can expect to see the VIX move lower and back to test the platform of support in the 14.00 region in due course. For any breakout into new high ground for indices, this level will have to be breached with a consequent move lower to test the second and equally well developed area of price support in the 12.00 region. If this is tested and subsequently breached, the bullish trend for US equity markets will be firmly back in play once again.
By Anna Coulling
The charts are from NinjaTrader and you can find more details on the indicators from Quantum Trading.