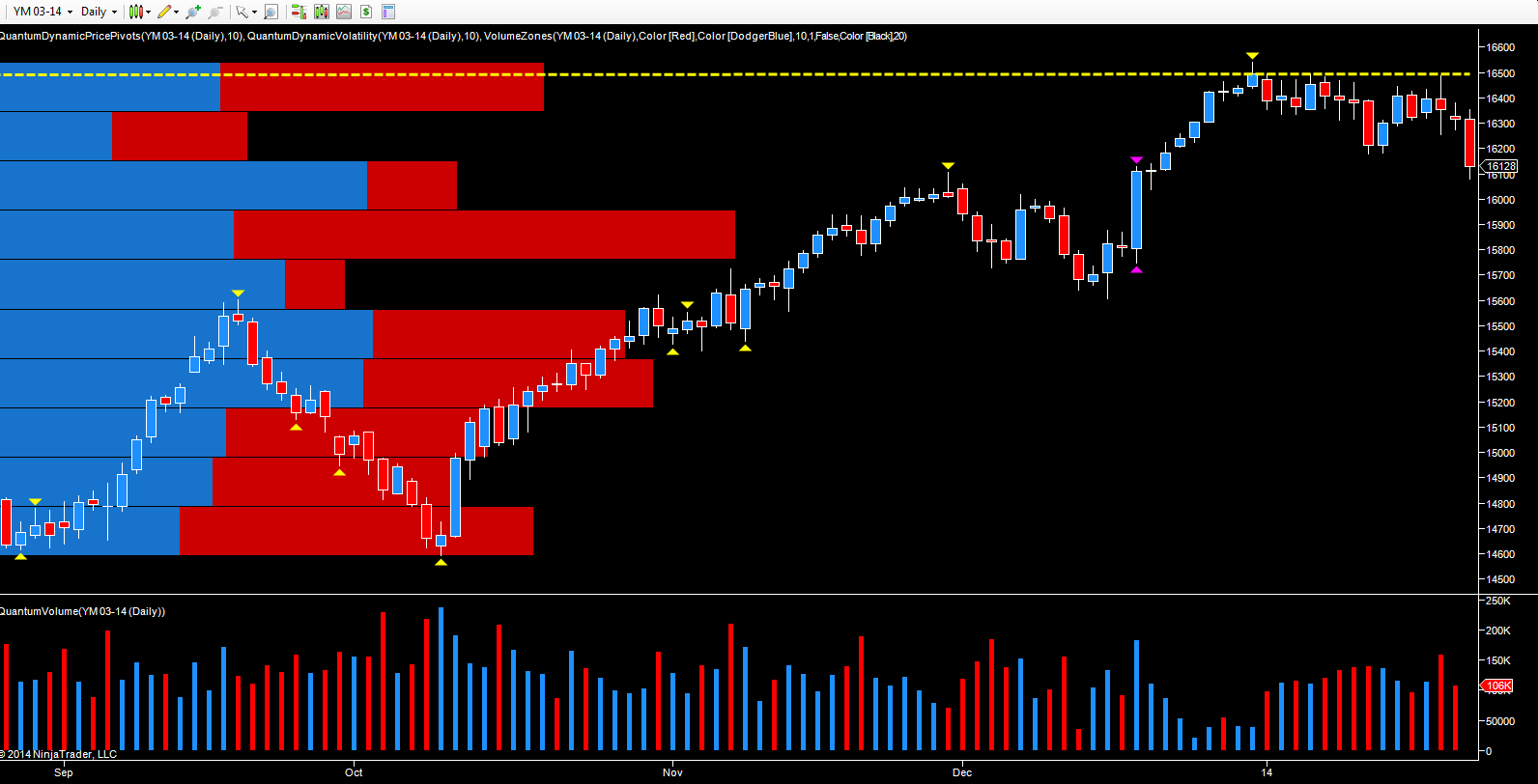 The warning flags of potential short term weakness have been flying for some time on the Dow Jones cash index, and the associated derivative E-mini YM futures contract. The question was not if, but when would we see a sustained move lower. Today's price action finally provided the answer, validating this weakness and sending the index firmly lower, and through the short term potential support level in the 16,200 area as a result.
So where did this weakness first appear?
If we scroll back to the end of 2013 and into 2014, this was marked with a sustained move higher, as the index moved firmly higher, through the 16,000 price point, and on towards the 16,500 area. However, the move higher was coupled with falling volume, sending a clear signal of potential weakness ahead, but taking into account the relatively thin volumes, always associated with the holiday period. Nevertheless, the market was starting to look tired, with the pivot high of early January, giving us an initial clue.
The index then paused, and tested this level on eight separate occasions. This is denoted with the yellow dotted line. The series of doji candles coupled with above average volume told their own story of a market, lacking direction. The most significant of these appeared on Tuesday, a long legged doji candle, supported with high volume, and sending yet another clear signal of indecision. Yesterday's doji candle once again gave a further strong signal, with today's wide spread down candle, finally providing some much needed direction and momentum to the index.
The resistance level is now clearly defined at 16,500, with the volume at price histogram on the left of the chart also confirming the deep level of price congestion which extends from 16,350 up towards 16,550. Below, the market is now testing support in the 16,100 area, and should this fail to hold, then the next logical platform is in the 16,024 area on the daily chart. Longer term, the market remains firmly bullish, as there is no evidence to suggest any selling climax on the longer term charts, just yet. Today's reversal is just that – a short term reversal in a longer term trend higher, but the resistance level now in place is extremely well defined, and will take some sustained effort to breach. Volume as always will reveal that effort, as the market recovers and moves higher, which it undoubtedly will in the medium term.
By Anna Coulling