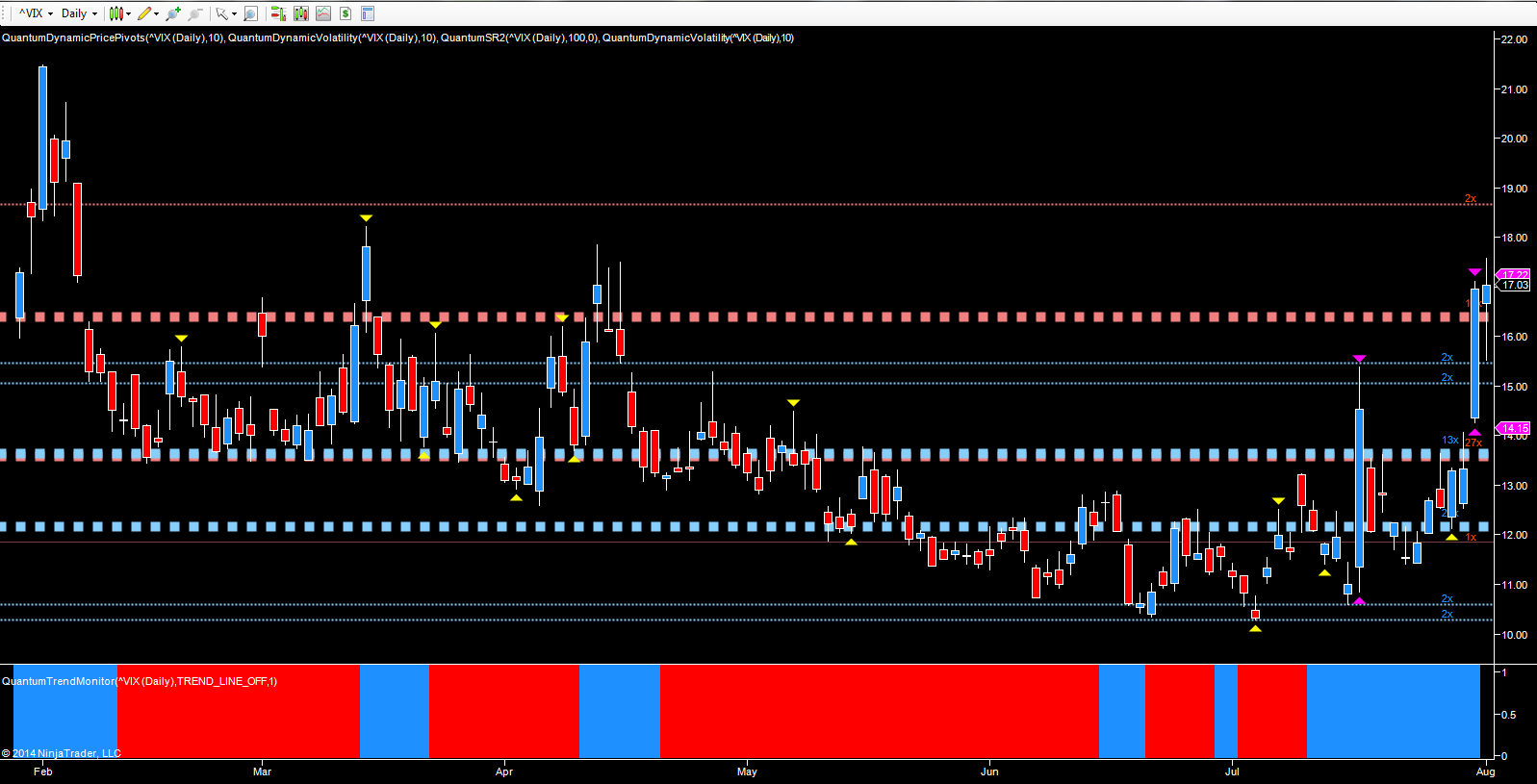 Last Thursday and Friday's price action was finally the point at which equity markets woke up, and indeed caught up, with the various and radically different geopolitical dramas currently in play. Having apparently ignored the crisis in Ukraine, the escalation of tension in the Middle East, and the imminent default in Argentina, this unholy trinity combined to provide an explosive mixture which not even bullish equities could ignore, sending markets sharply lower on Thursday, but less so on Friday.
With the start of the new trading month the question now is whether last week was simply a long overdue correction, or the start of the big short, and to answer this question the place to start, as always, is the daily chart of the VIX.
Thursday's price action saw the VIX close with a wide spread up candle, breaking through the deep ceiling of resistance at the 16.40 area before closing on the day at 16.95, and holding above this resistance.
Friday's price action failed to capitalise on this bullish momentum, with the session ending as a narrow spread up candle, and closing only marginally above the previous day, with a deep wick to both top and bottom. The price action of this candle alone suggests market indecision, and one that is lacking momentum. Given the fact that the VIX also reversed from this level back in mid April with a similar sequence of candles, we should not be surprised if the same pattern of price behavior is repeated with a move back below through the platform of support now immediately below at 16.40 and down to test a lower level in the 13.80 area. The price action on the VIX has also been reflected across the principle indices with the NQ, the ES and YM all closing on Friday with narrow spread candles and wicks to top and bottom, suggesting that markets have responded, absorbed the news and are now preparing to rally and recover in the short to medium term.
Furthermore, if last week's market swoon was indeed the start of a crisis, gold has certainly not responded as strongly as one would have expected. Indeed on Thursday gold also fell sharply on dramatic volume suggesting that far from buying, the big operators were actually selling. Hardly panic buying!
Finally, as to when the big short does arrive, rest assured the first place you will see it will be in the volumes and associated price action in the cash markets for equities, and to date no such selling climax is apparent, nor indeed in the associated futures market. If and when it does, you will be the first to read about it here!
By Anna Coulling