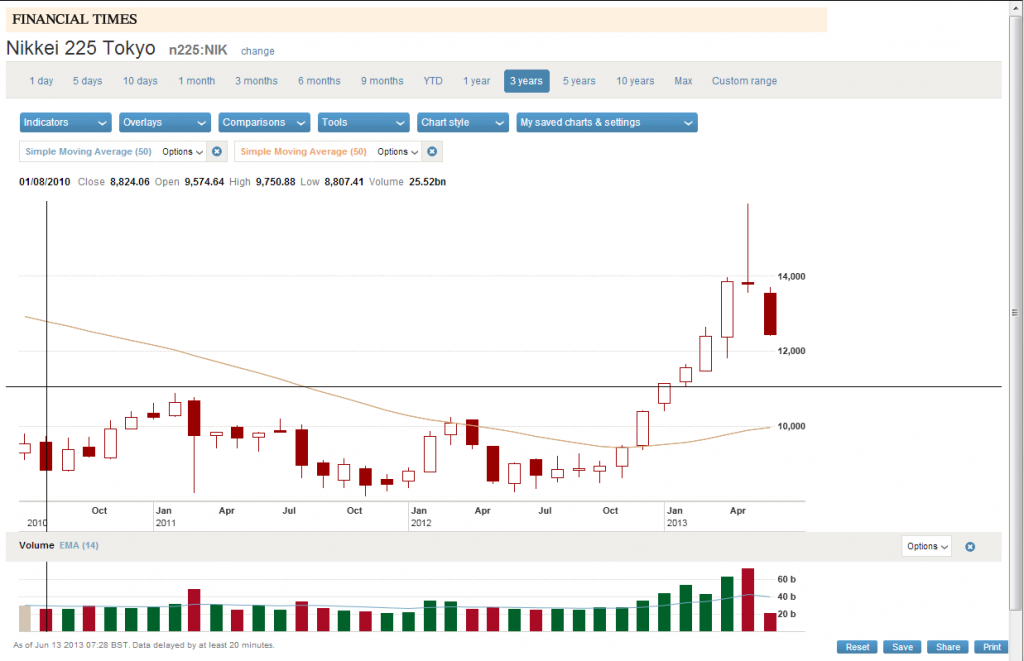 As I say in my forthcoming book which will be published next week on Amazon, there are two candles that I have used in my own personal trading, which have made me more money than all the rest put together, and these are the shooting star and the hammer candle. Whilst these candles are immensely powerful in their own right, when combined with volume they become all conquering, and if you were wondering why the Nikkei 225 has sold off so sharply in the last couple of weeks, then just take a look at the monthly chart for the index. It really needs little in the way of explanation. A shooting star candle with ultra high volume signals only ONE thing – structural weakness in the market, and a HUGE early warning signal of bearish sentiment. And how it has delivered. The market makers sold out early, and, as always sucked in those investors, fearful of missing out on a market going to the moon.
The chart is courtesy of the Financial Times 
The question now, is how far and fast this market and other risk markets are likely to fall, and rest assured, if we see it's celestial twin, the hammer candle with equally high volume or stopping volume, I will let you know! Till then, volume price analysis holds the key.
By Anna Coulling