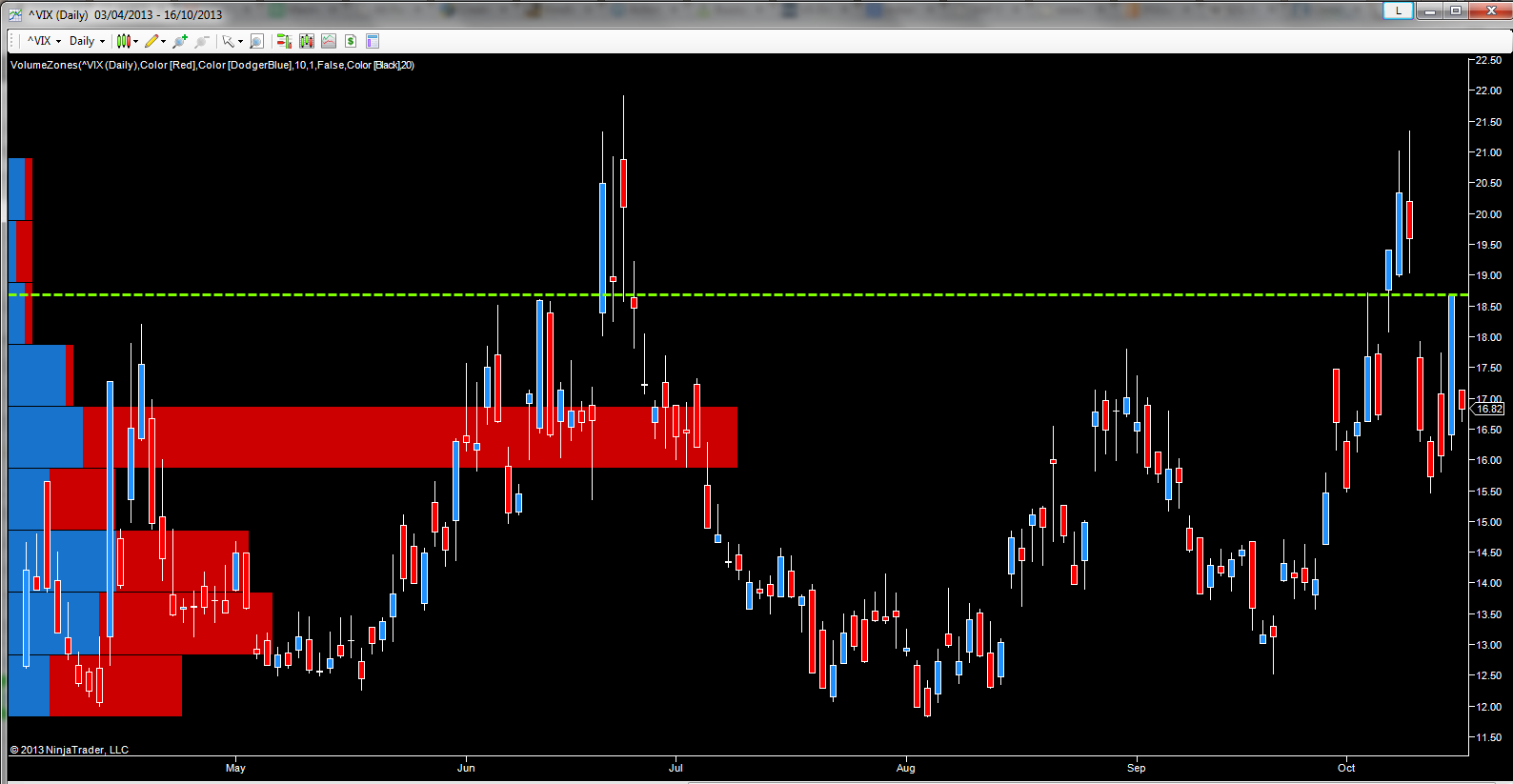 As we approach the end of what could be a defining week for the financial markets, nowhere is this reflected more graphically than in daily chart for the VIX, the ultimate gauge of fear and greed. Since late September, when the index started to test the developed platform of support in the 12.50 area, the VIX has surged both higher and lower in equal measure, touching an intraday high of 21.34 on the 9th October, before reversing lower back to the 15.50. Yesterday's price action saw the index climb from 16.16 to close at 18.66 with a wide spread up candle. But, as we can see, the close is once again testing the region of resistance denoted with the green dotted line.
This appears to be holding firm in early trading, with the index opening gapped down at 16.73, well off the high of last night, and sending a clear signal, if any were needed, of the oscillating sentiment in the market at present. All markets are now at a pause point. The dollar index has been in congestion for several days. Gold is teetering on the brink. Equity markets have ebbed and flowed as risk sentiment rises and falls. Ten year bond yields have been rising gently.
Whilst we all know that ultimately a deal will be reached, the seriousness of the situation cannot be underestimated. This is a quote from the US Treasury:
"A default would be unprecedented and has the potential to be catastrophic. Credit markets could freeze, the value of the dollar could plummet, US interest rates could skyrocket, the negative spillovers could reverberate around the world, and there might be a financial crisis and recession that could echo the events of 2008 or worse."
As I said in my post on gold today – an interesting Monday awaits next week! And this will of course all be reflected in the VIX, the ultimate barometer of fear and greed.
By Anna Coulling