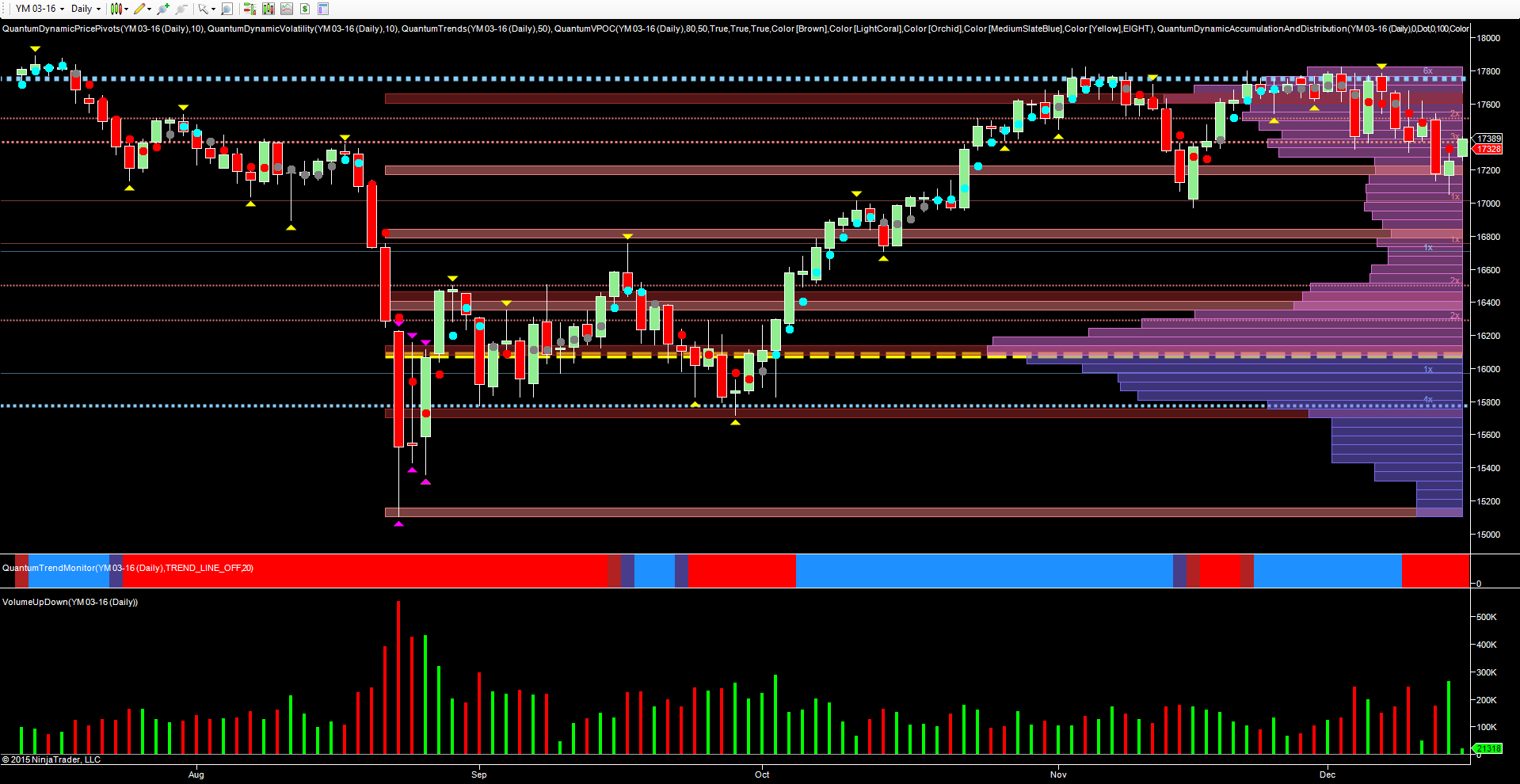 For the YM emini futures contract there is only one game in town at present from a technical perspective, and that's the resistance level just below the 17,800 region which like a tropical storm, continues to build in strength and develop as the days pass to weeks, and the weeks to months. This region is clearly defined by the blue dotted line on the daily chart, and was first tested in late October as the rally from the biblical three day rout saw equities recover, as I suggested they would in my post of the time entitled 'Don't panic'. Coincident with this first failure was the gentle decline in volumes during this period of price action which saw the index rise from 16,100 in steady steps throughout October. The consequent move lower of mid November was accompanied with average volume and signalling a lack of sustained selling pressure, with the index duly recovering to climb higher to test the resistance region at 17,800 once again.
However, this move too lacked momentum, this time to the upside with the recovery accompanied with falling volume, a classic signal of weakness, with the index then moving into a developed congestion phase towards the end of November, before finally breaking lower once more in early December. On this occasion, the move was accompanied with above average volume and weak price action as intraday attempts to rise were duly thwarted with deep wicks to the upper body of the candle. However, last Friday's wide spread down candle once again hinted at diminishing selling pressure with a return to average volumes once again, with Monday's price action and volume signalling buyers returning to the market and the prospect of a modest recovery that has been underway in early trading.
But for any sustained move higher, the resistance level at 17,800 is now taking on increasing significance, and capping the longer term bullish trend. Until this region is breached with a clear break and hold above, then it will continue to weigh heavily with a high volume node now also developing on the volume point of control.
Finally, the event all the markets have been axiously waiting for happens tomorrow, namely the FOMC statement when we will all discover whether or not the FED will raise interest rates.
By Anna Coulling
Charts from NinjaTrader and indicators from Quantum Trading