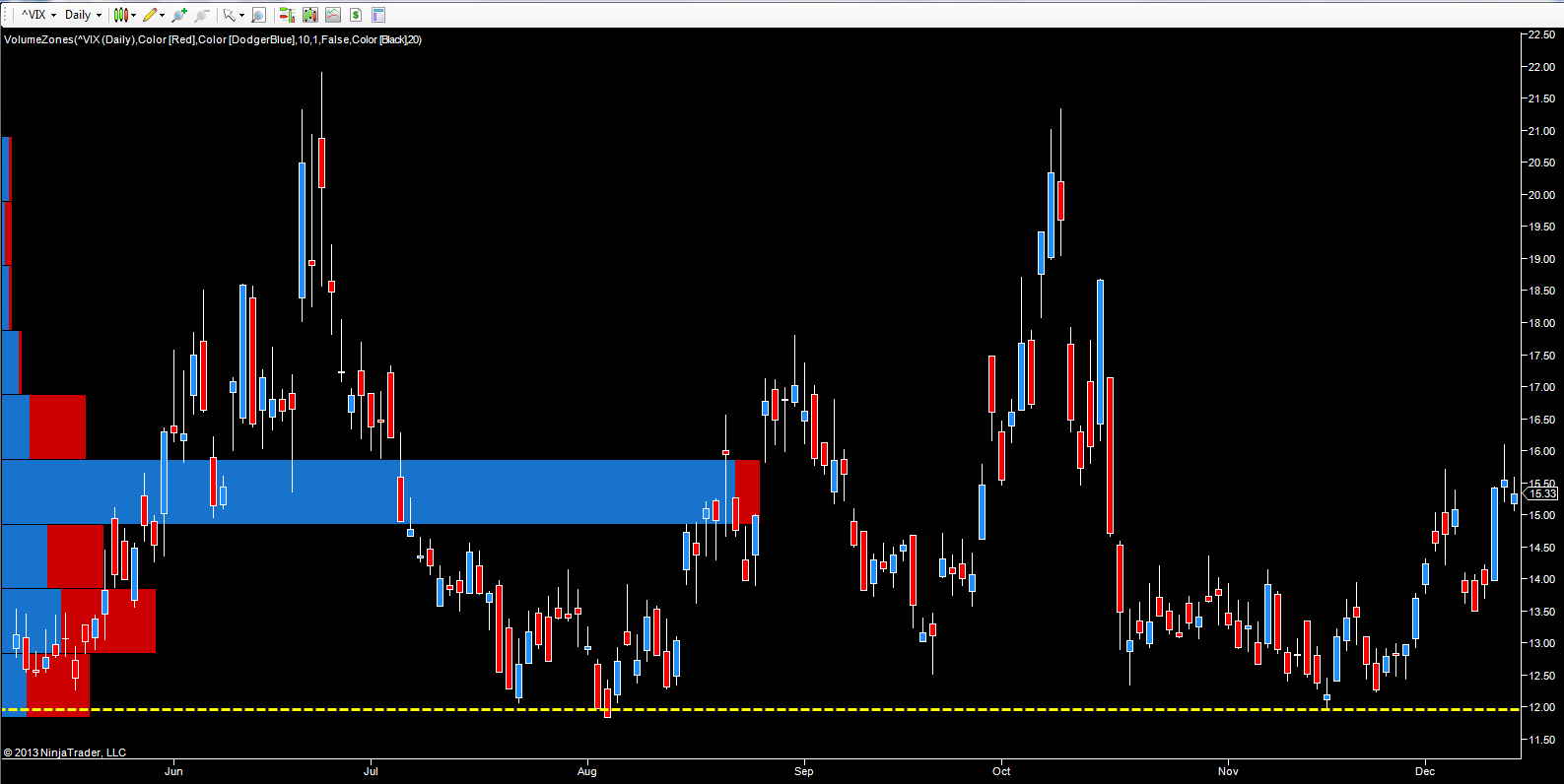 As we come to the end of another trading year, there is one index that will perhaps receive more attention than most, both next week ahead of the monthly Fed meeting, and into the New Year, and that's the VIX – the iconic barometer of risk. With so many voices calling the top of the market, it will be the VIX which ultimately confirms or contradicts these views, but one thing which is abundantly clear from this year's price action on the index, the floor of support is now extremely well defined in the 12.00 region, as shown with the yellow dotted line. This area has been tested on several occasions in 2013, and yet continues to hold, but for bullish momentum to be maintained in equity markets in 2014, this is a level which must be breached. This of course holds its own fears, as a VIX in single figures takes complacency to a new and interesting level. But let's not get ahead of ourselves.
The other key level which is also building is the one being tested at present, and as shown on the volume at price histogram on the left hand side of the chart. Here we see the deep area of price congestion graphically displayed with a single bar extending from 14.75 to the downside through to 16.00 to the upside. In yesterday's trading session this level was tested once again, with the index closing with a shooting star candle following Wednesday's surge higher with the index closing at 15.50. In today's trading session, the index has fallen slightly to currently trade at 15.32 at time of writing, as traders square their positions ahead of the weekend, in markets which are generally lacking direction, as the combined effects of the approaching holiday season, and next week's key meeting, both take effect.
Whether the FED finally reach a decision, or decide to delay once again, one thing is guaranteed, the ultimate indicator of fear will reveal it all in glorious technicolor.
By Anna Coulling