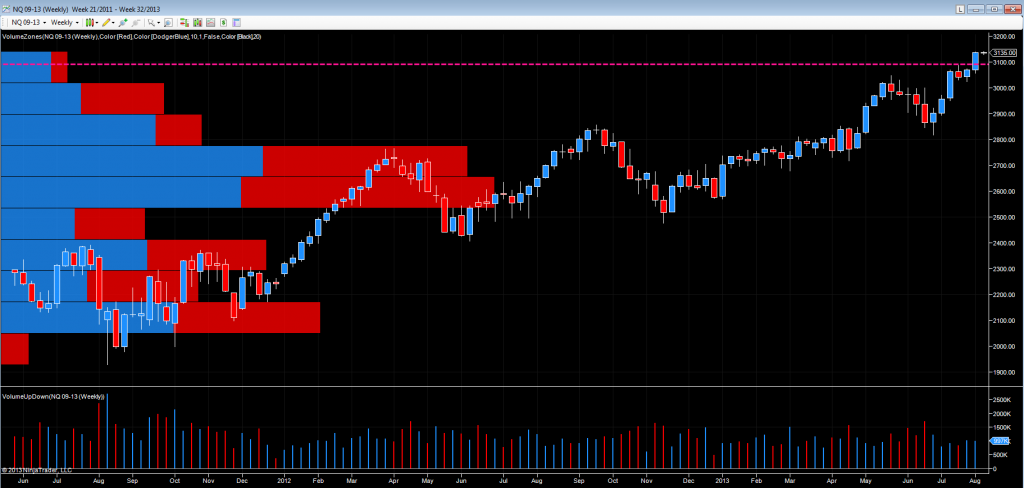 Given the debate in the media of whether equities have peaked once again, I thought it be useful to take a look at the NQ – the e-mini futures for the NASDAQ. The reason for considering this index is quite simple, in that any economic recovery, one of the sectors that generally leads is the tech stocks, of which the NQ is one barometer.
Moving to the daily chart for the NQ, the key point to note here is that last week saw the index break and hold above a key resistance area in the 3100 price region. Volumes throughout this breakout period have remained relatively high, but we do have to bear in mind that we are currently trading through the summer months, and this is likely to be reflected in daily volumes which can be lower than at other times of the year.
However, despite this, the technical picture remains strong and with well developed platforms of support both at the 3000 price point, and now increasingly at the 3100 region, we can expect to see further bullish momentum for indices in the short to medium term. This is particularly well defined on the weekly chart.
The only thing that could spoil this rosy picture is the immediate tapering and eventual  cessation in the FED's bond buying program. However, to use an analogy from that venerable British game of rugby, this has been 'kicked into the long grass' for the time. In other words, pushed aside and hidden in the hope that it will go away.
By Anna Coulling