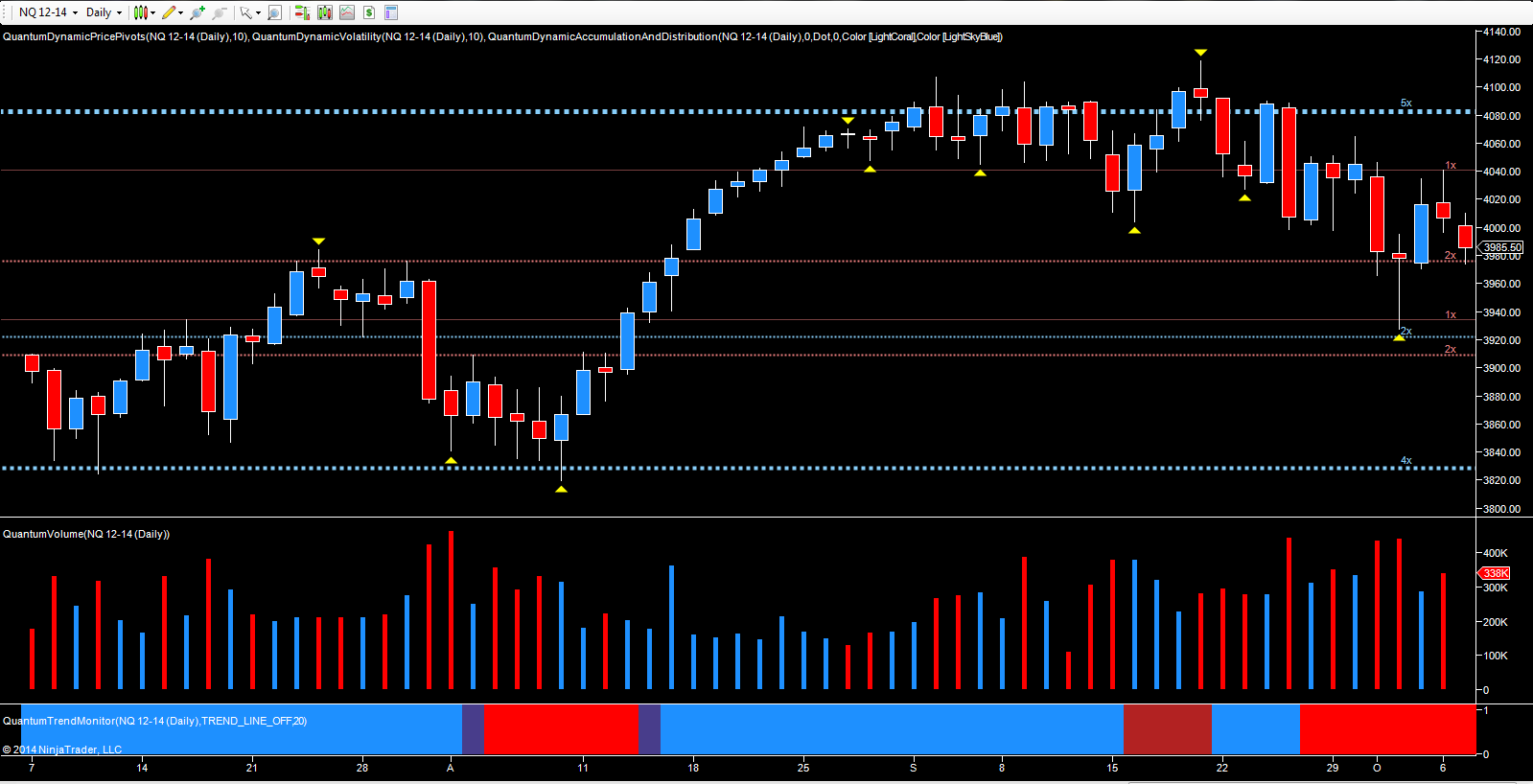 Today is a quiet one for economic releases in the US markets as they prepare for tomorrow's FOMC minutes, as well as the 10 year bond auction which is released an hour earlier. The big news, so far this morning, has been Canadian building permits, which shocked the market, coming in at a dreadful -27.3% against a forecast of -6.0% and dramatically reversing last month's positive picture at 11.6% and driving some US dollar positive sentiment back into the USD/CAD pair. For equity markets it has been a relatively quiet session, with the primary US indices confined to narrow trading ranges, and following a similar picture to yesterday's trading session, moving higher and lower throughout the day. Overnight the Nikkei closed down 0.67% with European markets also trading with a bearish tone, with the FTSE 100 in London down almost 0.5%, along with the Dax. This mildly bearish tone is also reflected in the index futures, with the NQ and the ES both trading lower ahead of the open.
Moving to the daily chart of the NQ emini, the index has been hovering in the 4000 region for much of the morning, following yesterday's weak response to last Friday's bullish momentum, with last week's price action dominated by Thursday's deep hammer candle, which propelled the index higher and back to test the 4040 level once again. Yesterday's candle with its deep upper wick and narrow body, coupled with high volume sent a clear signal of weakness, that has been duly delivered this morning, with the index opening gapped down and now testing the downside support in the 3980 region.
The key levels of support and resistance are now clearly defined on the daily chart, with 4082 denoting the deep resistance ahead, and with further deep congestion between 4000 and 4040, any return beyond these levels will require both positive sentiment and volume, something which appears to be missing at present. The problem at present is global rather than local, with China now hinting at a slowdown, and with European markets and Germany, in particular now struggling with this morning's month on month industrial production data coming in at -4.0% against a forecast of -1.4%, and against last month's positive 1.6% – bad news for everyone! Australia and Canada too have had their own problems. With good news stories few and far between at present, and equities in a fragile state, any surprises in the FOMC release tomorrow could see further volatile price action as a result.
By Anna Coulling