A quick post in response to a question I have been asked about two British banks, Lloyds TSB & RBS both of whose share price has continued to suffer as a result of the financial crisis.  The question is whether their respective share price is likely to continue to fall and at what point they may become a buy.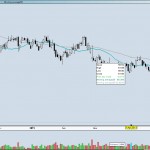 Let's start with Lloyds (LLOY) whose price in the last 9 months has fallen from a high of 79.17p to its current level of 48.27p.  From a technical perspective the outlook for this stock remains bearish for several reasons: first we now have a sustained ceiling of resistance at the 57p area which extends through to 70p per share and, as such, represents a significant obstacle to any short term reversal.  Second, both the 20 day and 50 day moving averages are adding their own weight to the downwards pressure and the rally of the last few days, whilst breaking about the 20 day moving average was capped at the 50 day at 52p and the share now looks set to re-test the 42p region of a couple of weeks ago.  Finally, of course, there is no indication within the volume that the professional money is buying this stock at present and until we see a sustained period of buying represented with high volume and narrow price spreads then this share will continue either to consolidate or drift lower in the short to medium term.
The picture for the Royal Bank of Scotland (RBS) is almost identical with the price action remaining firmly bearish, this time with a ceiling of price resistance at the 40p area which indeed provided a barrier to an attempt to rally earlier this week.  As with Lloyds both the short term moving averages adding further downwards pressure and the share now looks set to re-test the low of 2 weeks ago at the 35p area.  Looking at the volume, once again this reflects the same position as with Lloyds, with the professional money clearly not ready to move back into this share and any accumulation by the market makers will only be signalled once we see high volume coupled with narrow spread price candles.
In summary and, in my personal opinion, both of these shares are likely to move lower in the short term before looking to consolidate and probably forming a"saucer" shape on the daily chart in the medium term.  As outlined above the key to any eventual move higher will be an inflow of substantial volume combined with a hammer candle and/or narrow spread candles.