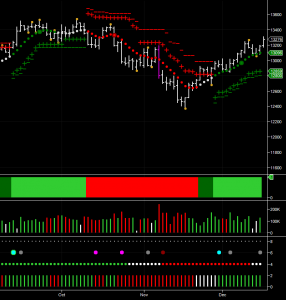 The December YM E-Mini futures contract moved firmly higher once again yesterday, ending the US trading session with a wide spread up bar, and closing at 13,276 on the daily chart. The recent upwards momentum was given a further boost yesterday, as market concerns over the so called 'fiscal cliff' calmed on the expectation that the US authorities would resolve this, ahead of the New Year, with risk on appetite returning in all the markets as a result.
Yesterday's price action was significant, as the close was well above the recent short term resistance in the 13,200 price area, and giving a clear technical signal of further bullish momentum, with a firm platform of support now in place.
Moving to the volume and trend indicators, both of these are clearly supporting the move higher, with buyers out in force on both the daily and the weekly charts. On the daily chart yesterday's strong move higher was supported with rising volume, a clear sign of strength, and with consistent buying volume on the three day chart, this is adding further weight to the analysis. Moving to the trend indicators, the daily trend has been consistently green since late November, and with an isolated pivot low now in place on Friday, this is adding further support. The three day trend has yet to transition to green, but should this take place in the next week, expect to see equities end the year in positive mood, before we all disappear over the fiscal cliff – or perhaps not!
From a technical perspective the next level of price resistance is now clearly defined in the 13,550 region, with a series of isolated pivot highs. A break and hold above this level will then open the way for a further move higher, and on towards the elusive 14,000 level once again into 2013.
By Anna Coulling