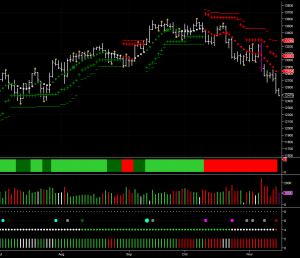 Risk appetite evaporated yesterday once again, with the YM Dow e mini (YM) closing with a wide spread down bar on the daily chart. The index closed the session at 12,544, having touched an intra day low of 12,509 as well as breaching the key support level in the 12,700 level. This decisive move lower, also validated the magenta coloured wide bar on the daily chart, which added further downwards pressure to the index. This bearish momentum has carried through into today's trading session with the YM once again moving lower to breach the psychological 12,500 and, at time of writing, is currently trading at 12,486, with the expectation that the index is likely to move even lower before the end of the session.
The significance of yesterday's price action cannot be under-estimated, with the trading indicators delivering two significant signals. First, the three day trend finally transitioned to bearish with a red trend dot on this timeframe. Second, they delivered a conservative trend entry signal, confirming this longer term bearish outlook for the index and equities in general. The negative sentiment for equities is further evidenced by the rising selling volumes on the daily chart coupled with sustained selling on the three day chart.
With both the daily and the three day chart now firmly in alignment, and with the VIX rising and threatening to break above the psychological 20 region, risk on appetite is draining away fast and, from a technical perspective, we are likely to see a test of the 11844 pivot low of late May.
By Anna Coulling