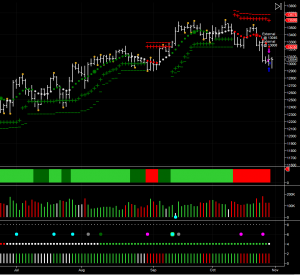 The e-mini Dow futures contract for December closed marginally lower on Friday, closing the day and the week at 13054, as the index tested the 13,000 level on the daily chart. The significant day last week was on Tuesday as the index closed the session with a wide spread down bar, which broke below key support in the 13300 level, finally breaking out of the recent congestion area clearly defined on the daily chart by the pivots. This initial bearish sentiment was first signaled by our trading indicators on the 10th of October, with a change in trend dot color to red, and coupled with a simultaneous change in the indicator from green to red.
Last week's volume on the daily chart was also accompanied with solid selling volume, which was also a feature of the three day chart, with the three day trend finally signaling a potential change for the longer term with the first white trend dot on this chart.
From a technical perspective the 13000 level is now the key region, and if this is breached, then we can expect to see equity markets sell off again next week, with a possible test of the 12,800 region in the short term. For longer term trend traders we are now waiting for a conservative signal to confirm the aggressive volume signals of the last two weeks.
By Anna Coulling