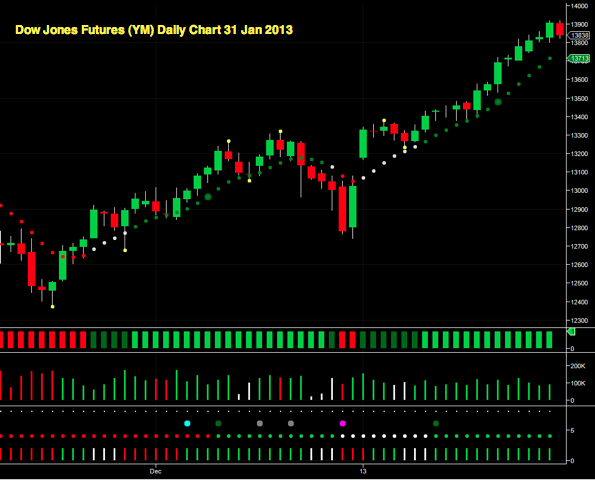 Despite a poor GDP release the YM (futures contract for the Dow Jones Index) took this in its stride, closing the trading session mildly lower at 13838, having touched an intra day high of 13919.  Hardly a swoon at the poor number and certainly not suggestive of any imminent reversal in the recent bullish trend.
Indeed, the price action of yesterday's candle is virtually that of an "inside day" and therefore signalling further further bullish momentum with the prospect of a continuation of the recent trend and a move towards the 14000 price point, in due course.
Moving to the indicators, the daily volumes remain firmly bullish although slightly below average, whilst the three day volumes also validate the current positive sentiment.  In addition, both the daily and three day trends are also green and coupled with a bright green heat map everything is pointing to a further leg up in the current positive trend.
Meanwhile, should any pullback develop YM bulls will be able to rely on the strong platform of support now in place in the 13550 area which provided the spring board for the current break out back in mid January.
With only NFP and ISM left as the major news items for this week, and with the FED policy unchanged, there is little to suggest that the current trend is ready to reverse.
By Anna Coulling