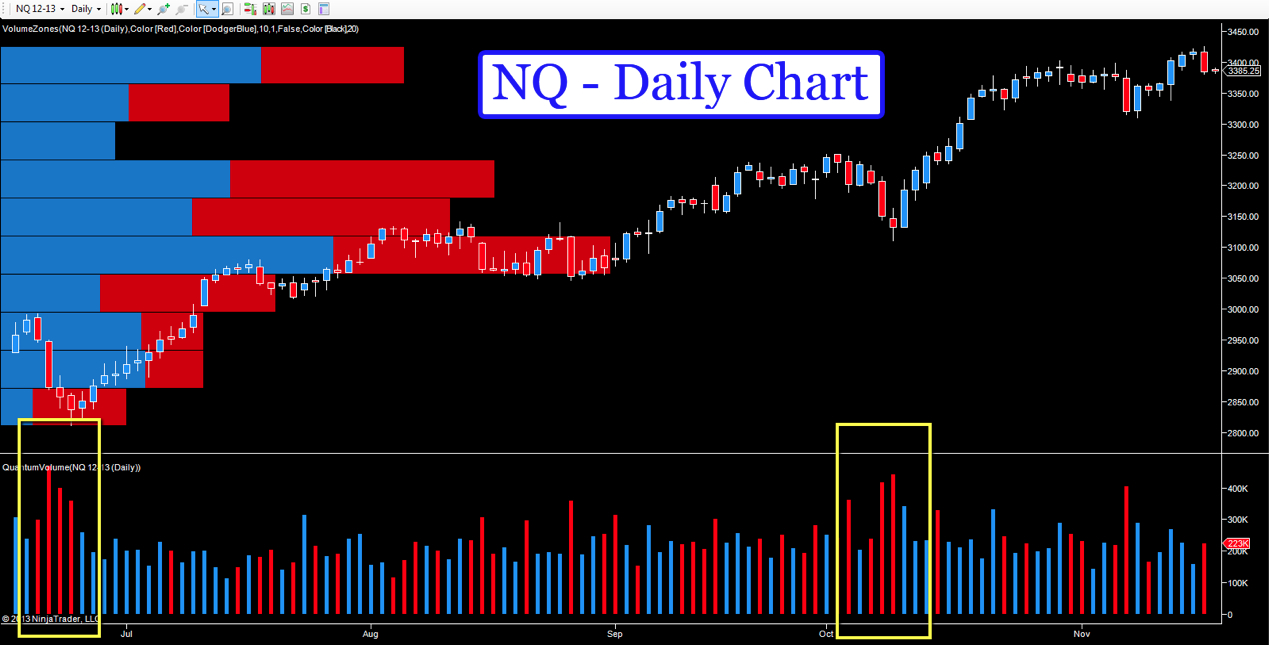 With so many market analysts and commentators attempting to call a top to the current bull market in equities, and with the traditional Santa Claus rally ahead, I thought it would be a good time to review the benchmark indices for clues as to our volume price analysis method is signalling.
From a personal point of view, it was at last year's Money Show in London that I suggested traders and investors should focus on the NQ (the e-mini for the Nasdaq) as this index was well off its 2000 highs, and could provide some fantastic trading opportunities. Not least, of course, as it is the tech stocks that are traditionally the sector that tends to lead an economy out of deep recession and into early expansion. So let's start with the daily chart for the NQ, as it is on this chart that we have two areas of classic volume price analysis.
The first of these is back in late June where we have a series of four down candles with narrowing spreads, but all accompanied with extreme volume, particularly the last two. This was a clear signal of further buying ahead of a rally higher, which duly occurred throughout the summer months. Furthermore, following the break through resistance in the 3125 price region, this price action was duly repeated in early October which saw the NQ surge higher, and up towards its current level where it is now testing resistance at 3420.
Yesterday's minor move lower came as no great surprise following last week's classic sign of short term weakness, where the index rose on narrowing price spreads and falling volume. However, with the strong platform of support now in place at 3386 this is only likely to be seen as a temporary pause before the bullish trend resumes as there is no evidence to suggest any selling climax just yet.  The weekly and monthly chart also confirm this picture.
For equity bears these are tough times as there is no doubt this rally has been given added impetus by the actions of the FED and their bond buying program. However, until this program is consigned to history then the focus has to be on what we see on the charts and not what we think should be. The same sentiment could also apply to many other instruments and markets, not least the euro.
By Anna Coulling