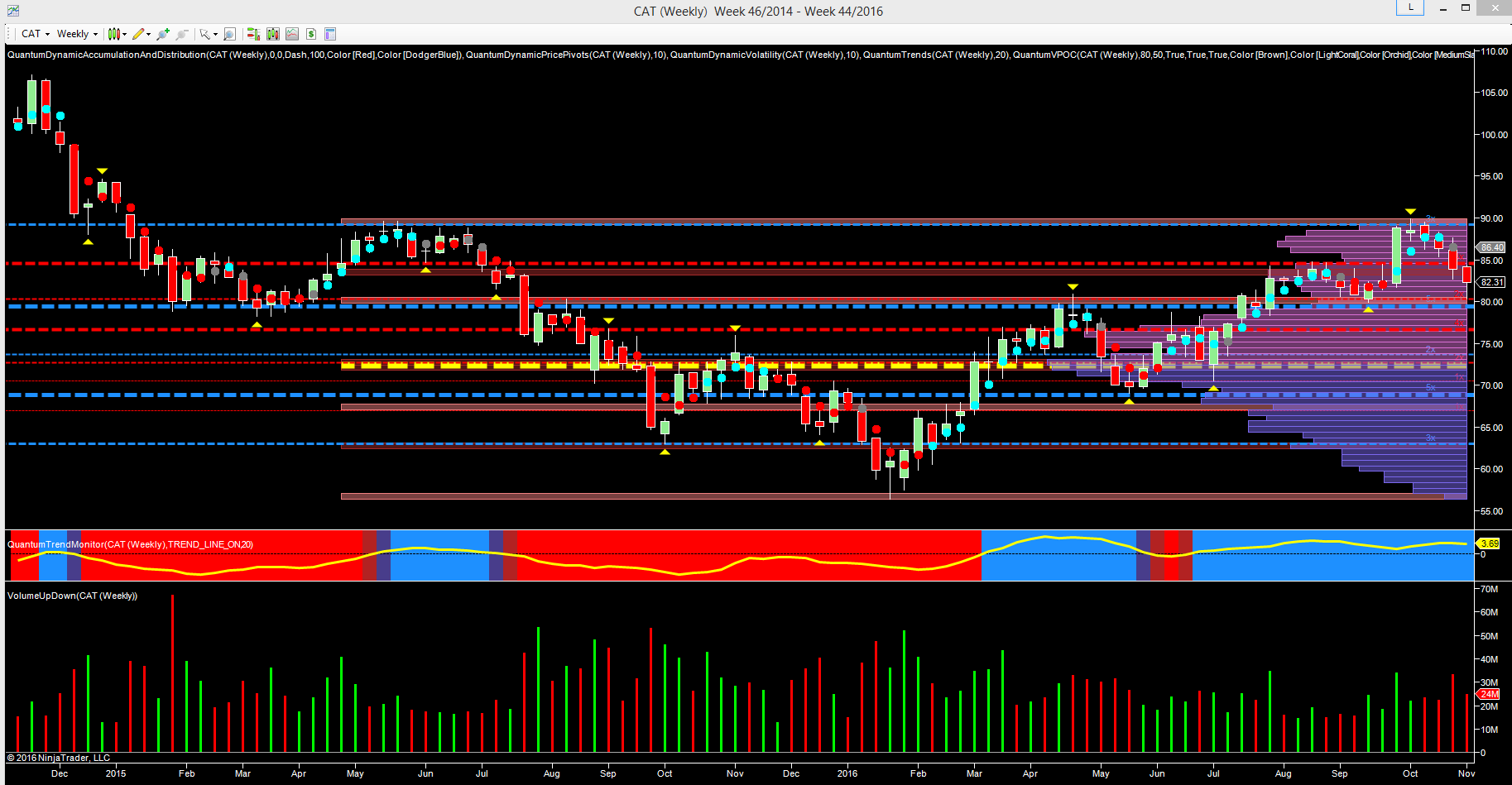 And speaking of the US presidential election, which everyone continues to do for many different reasons, one of the stocks I tipped at the time was Caterpillar, not least as one which was likely to benefit whoever won the race to the White House. In either case, such a stock was likely to be a winner as both candidates had pledged increased infrastructure capital spending.
Prior to the election the stock had been trading at $82.31, as shown on the weekly chart, and at the time I suggested that provided the $89 dollar resistance area was breached, then the stock should continue higher with some momentum, which seems to have been th9.e case following last weeks injection of momentum for US stocks, with Caterpillar closing the week just shy of three figures at $98.9
Prior to last week's move, the stock price had been in congestion following the explosive move higher following the US election result, with the stock oscillating around the VPOC at the $94 per share level, and it was Wednesday's price action which finally provided the momentum, with a gapped up open, and duly supported with further buying on Thursday, with Friday then closing on a solid up candle and strong volume. With the strong technical platform now in place below, we should see the stock break above $100 per share, and firmly higher in due course and with the potential to take out the late 2014 high of $107.12 per share.
From a fundamental perspective, the move higher was largely as a result of the quarterly earnings which topped expectations on Wall Street, with reported earnings at 83 cents per share, and matching results from the same period last year, with revenues falling from $11.03 billion to $9.57 billion. Whilst the figures may have been below par, the outlook from the company was seen as positive, with mining sales picking up in China and the US economy creating a pull through in several of the business sectors.
By Anna Coulling