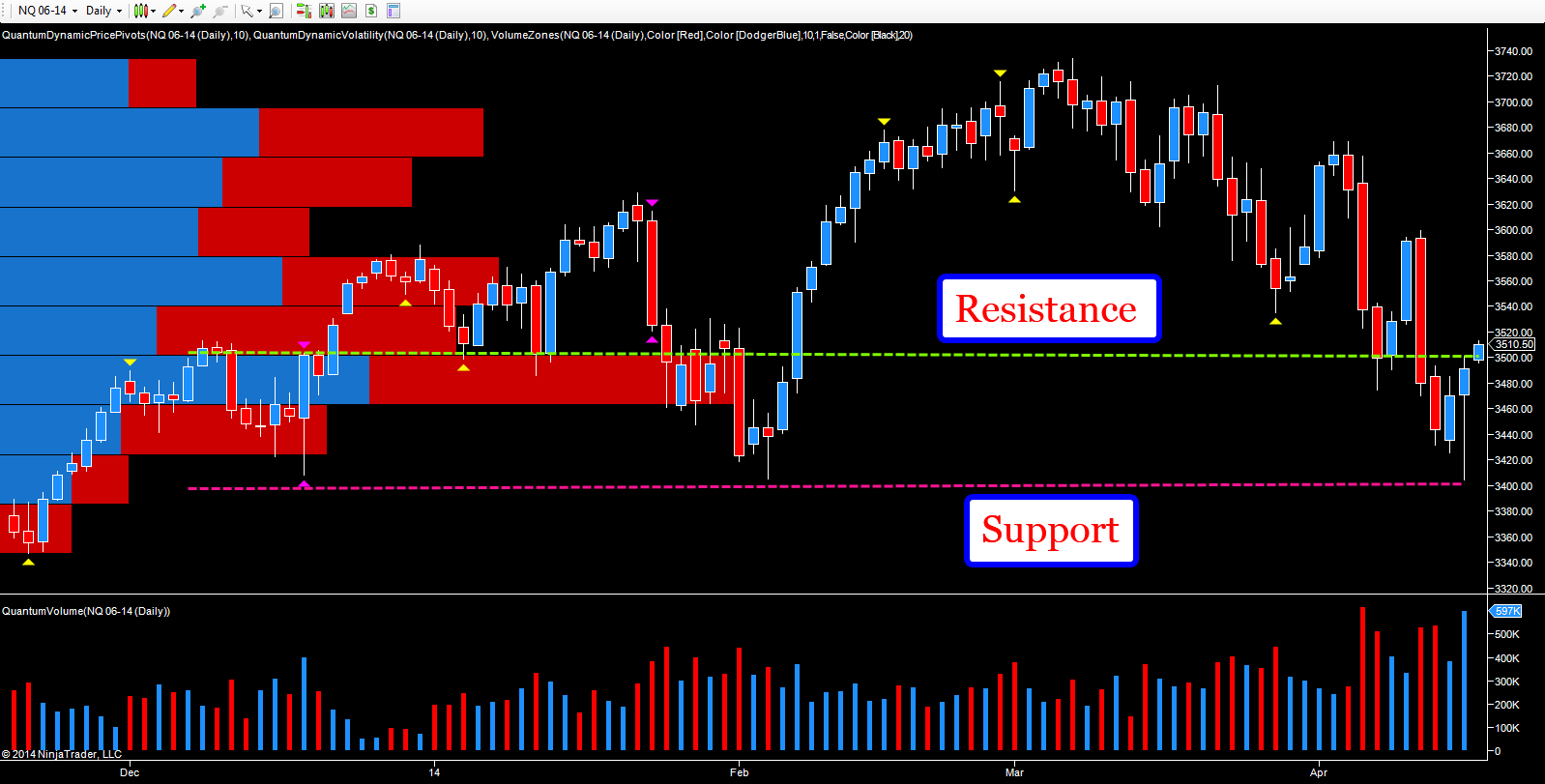 For many investors and traders, the Nasdaq index remains the bellwether of any economic recovery, given the fact that tech stocks are one of the leading sectors during any early recovery and expansion phase following a long recession. As such the index has been causing some concerns for longer term investors, given its decline over the last few weeks, having run into resistance in the 3730 region in early March. Since then, the June NQ Emini futures contract has been sliding lower, punctuated with rallies, which failed to deliver the necessary bullish momentum. Indeed the last of these occurred in early April, with the index rising with two wide spread up candles, but on falling volume, a sure sign of weakness which was dully confirmed with a further move lower towards the 3400 region.
Yesterday's price action however, was seminal for several reasons, and may well be the first signal of a longer term recovery for the index, and equity markets in general. First, the low of the day found support at precisely the same level as in early February and late December, and which saw the index bounce higher on both occasions. Second, the candle created during yesterdays trading session is sent a clear signal of bullish momentum, given the depth of the lower wick. Finally, the volume associated with the candle is ultra high, confirming that buyers have returned in force and are now looking to take the index higher once more. The key resistance level ahead is in the 3620 area, and should this be breached with strong and rising volumes, then we can expect to see the index move to test the congestion area in the 3660 region and on towards the 3720 level in due course.
In early trading this morning the index has moved through the key 3500 level, breaking through solid resistance in this area, and further confirming the bullish tone, to currently trade at 3510.50 at the time of writing.
By Anna Coulling