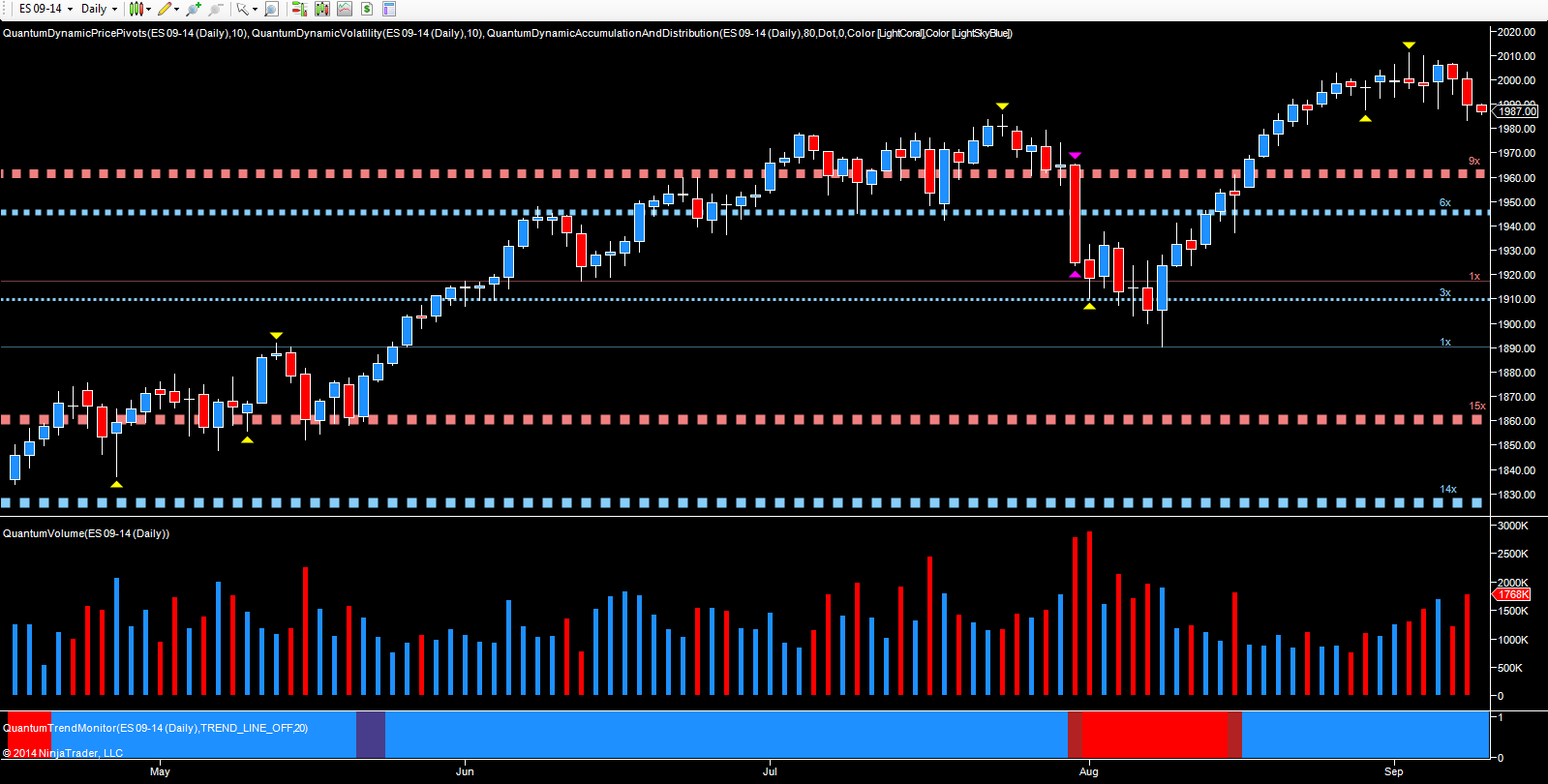 In a post several days ago, I described the recent price action for the major US indices as perhaps the most elegant we have ever seen, arching higher through August and into early September before reaching a plateau. Indeed I went further, and suggested this had many similarities to the up escalator in a department store, which had now reached the top, and judging from the last few days of price action on the ES daily chart, this analogy may be spot on!
Whilst the price action itself, suggested a market that was tired at best, and exhausted at worst, the volumes associated with the move from 1900 to 2000 did little to suggest strong bullish momentum, in fact quite the reverse. Since reaching the plateau between 2000 and 2010, we have seen several signals of weakness. The first of these was the shooting star candle of the 3rd September, which was duly topped off with an isolated pivot high on above average volumes. This was duly followed by a second and subsequent shooting star the following day, with volumes rising once again. Friday's attempt to rally looked increasingly weak as the failure to breach the 2010 region added further resistance to the move higher. Monday's price action failed to break this level once again, with yesterday's down candle adding some momentum to the bearish tone, and coupled with high volume. As always, the question now is whether this is simply a short term reversal, or a longer term change in trend, and to answer my own question, I believe this is once again simply a pause point and overdue correction, a view that the weekly chart confirms.
Whilst the daily chart has described some picture perfect price action, the weekly chart has delivered in another way, describing the perfect trend, with a rising market punctuated with pullbacks and reversals, duly denoted with the pivot lows and pivot highs as the index climbed ever high. In the last four weeks, the price action and volume tells its own story – a rising market with narrowing price spreads coupled with falling volume, and a sure sign of short term weakness. However, what is clearly not on the chart is any sign yet of a selling climax, and as such, the current weakness is just that – a pause point, which we have seen many times before in the journey higher. This may change of course, but until we see sustained high volumes with associated weak price action, the outlook for equities remains bullish, and with the VIX continuing to oscillate between 10.50 and 14.00 this too is confirming the current bullish picture.
By Anna Coulling