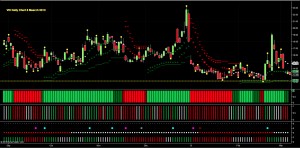 Following the sharp move higher for the VIX on 25th February which saw the index touch an intra day high of 19.28, volatility has now drained away as equity markets reach fresh highs.  And with equity markets rising once again yesterday, it was no surprise to see the VIX close lower ending the session at 13.06 and moving deeper into the congestion zone created between the end of January and mid February.
Downwards pressure was also added to the index on 1st March with an isolated pivot high posted at 16.84 and coupled with a heat map in transition the outlook for the VIX is now bearish.  Furthermore, this negative sentiment is also reinforced by the selling volumes evident on the daily chart.  In other words, all very good news for equities!
From a technical perspective the key level is now clearly defined in the 12.21 price region where we have the floor of potential support and should this be broken then we could see the VIX move to test single figures at which point a potential major reversal in equities becomes increasingly likely.
The trends on both time frames on the daily chart remain in congestion but should we see a transition back to bearish then this will complete our technical picture.
By Anna Coulling
Come and join my live training room and discover why in today's complex markets price behaviour holds the key to your trading success.