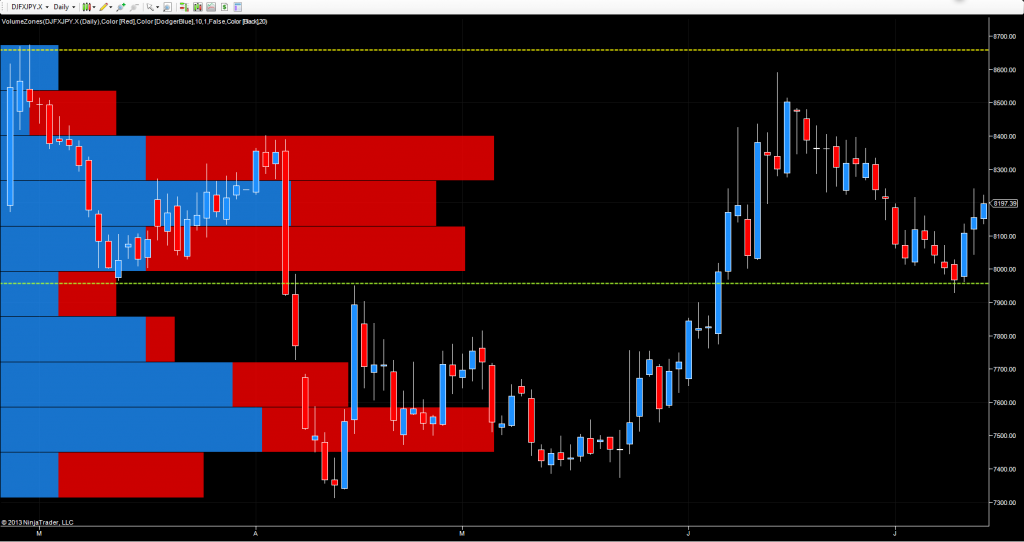 The Yen index continues to reflect some interesting price action on the daily chart, for the Japanese yen against a basked of the major currencies, following a return of some bullish momentum for the currency towards the end of last week. The bullish engulfing candle provided the initial trigger with the index finding support in the 7950 region, reflecting a similar reversal in March earlier in the year. However, this was duly followed the day after, with a long legged doji candle, a clear signal of indecision, and a suggesting possible pause or reversal in the market. Indeed it is interesting to note that the high of this session has yet to be tested, and this is increasingly looking set to be seen as a short term move higher, in a longer term downwards trend.
The upper area of resistance is now clearly defined in the 8650 area, as shown with the yellow line, whilst downside support is shown with the green dotted line. The volume at price histogram gives us a clear picture of this price congestion, with three solid bars in this area extending from 8400 through to 8000. If the platform of support in the 7950 area is breached, then the bearish trend for the index is likely to continue further, given the depth of price congestion which would then be in place, and if so, then we could see a re-test of the 7700 area in due course.
Remember, that this index reflects strength and weakness in the Yen, so any pairs such as the USD/JPY will move in the opposite direction!
By Anna Coulling