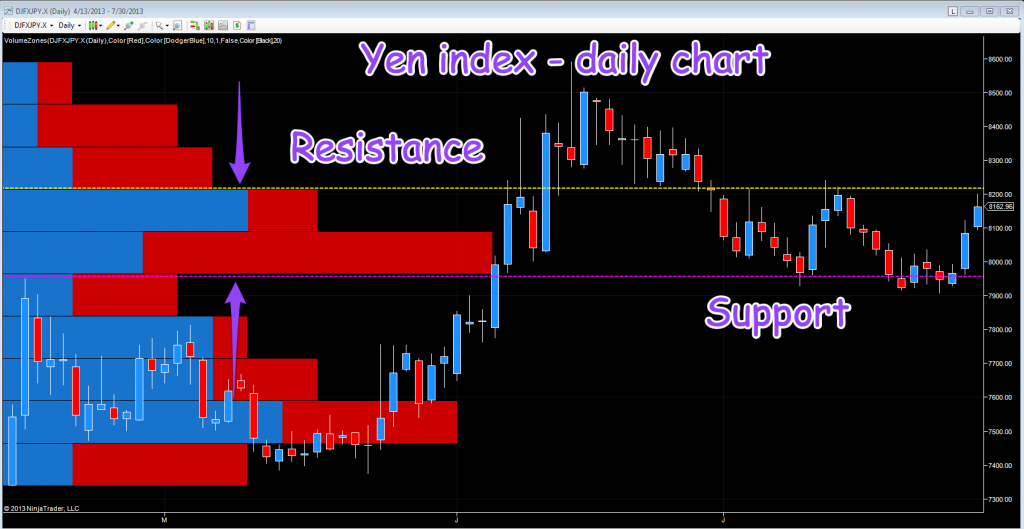 Just like the US dollar index, the yen index too, is in a delicate phase of price action on the daily chart. Following the extended move lower for the index throughout June, July has started to paint a slightly different picture, with the index finding some support in the 7,900 region, and which has since provided the platform for the recent move higher over the last few days.
However, like the USD index, the yen index is now also poised in a narrow trading range. Throughout July, the index has moved between the 8,200 level to the upside, as shown with the yellow dotted line, and 7,950 to the downside as detailed with the magenta line. As we can see from the chart, the 7,950 level is now building into a significant area of support, and helping to prevent any further yen weakness for the time being.
To the upside, the 8,250 level is now key, and if breached then this will offer a solid platform for a sustained move higher for the yen. This is all clearly shown on our volume at price indicator on the left hand side of the chart, with the lower level of congestion now extremely wide.
From a technical perspective, provided we see the yellow line breached at 8,250 then the index may advance further, possibly even towards the 8,550 area of mid June in the longer term. But as always, the FED will have the final say, and in the next few weeks, until the starting gun is fired, anything is possible.
By Anna Coulling