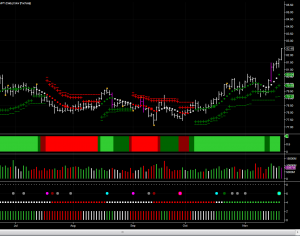 The dollar yen moved higher once again yesterday, closing at 81.67 on the daily chart, and this positive sentiment has continued once again in this morning's early trading, with the US dollar gaining against the Japanese Yen, driven largely by fundamental factors. The primary driver this morning was the expectation that a new Japanese government, could push the Bank of Japan back towards a more aggressive monetary stimulus, with the USD/JPY surging higher as a result, and moving firmly beyond the 82.00 region, to trade at 82.28 at the time of writing.
From a technical perspective yesterday posted several important signals for forex traders, all pointing to further bullish momentum for the pair in the short to medium term. The first of these signals appeared on the trend on the daily chart, which has now transitioned back to green, following a period of sideways congestion with white trend dots, and aligning the daily trend with the three day trend which has remained bullish throughout. Yesterday's price action also validated the magenta widebar of last week, with the bar closing above the high of this bar, adding weight to the move higher.
Throughout the last few days the Heatmap has remained firmly bullish with the recent transitional phase to dark green, now seen as a temporary pause in the longer term trend. Moving to the volumes in both timeframes, on the daily chart, volume has been mixed, but has now reverted to predominant buying, and with the market rising once again today, this suggests the buyers remain in full control in this timescale. On the three day chart, volume here has also reverted back to buying, supporting the three day bullish trend, which has remained unbroken since mid October.
Finally, the software delivered a conservative entry signal to the long side, with both the trends, volume and Heatmap now all in agreement. With the USD/JPY now trading at 82.32, we can expect to see a further move higher, and a possible test of the 84.17 high of early March in due course.
By Anna Coulling