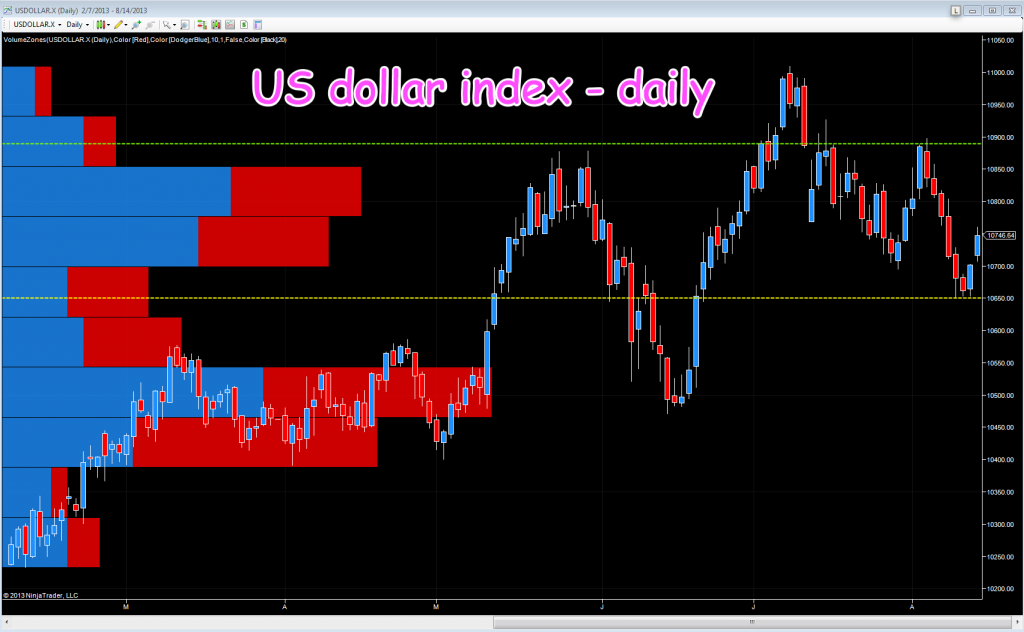 Trading during these summer days can be tricky, not least because of relatively thin volumes and a general lack of participation. Therefore, it can be more useful to take a closer look at some of our key indices for a view of current market sentiment, as well as a view of where markets are likely to be heading once the summer is over.
For forex traders two important indices are the US dollar index, and perhaps the lesser known, Yen index with the latter providing an excellent barometer of the market's appetite for risk. Because if the YEN is falling then it is highly likely that equity markets are rising.
Starting with the daily chart for the US dollar index, the phase of bearish sentiment for the dollar which was clearly evidenced throughout all of last week, appears to have come to temporary halt, with the USD index finding some short term support in the 10,650 price region (as marked on the chart by the yellow line). Since pausing at this level, we have seen a modest recovery for the dollar this week as it attempts to test the 10,750 area and beyond. However, this price action is reminiscent of that seen towards the end of July with the recovery consequently being snuffed out in the move lower, with the chart now suggesting a possible build of a series of lower highs and lower lows in a longer term downward trend.
There is a deep area of price resistance above (as shown by the green dotted line), and indeed was the level at which the previous rally failed. Should there be a continuation of this current phase of dollar weakness, and a breach of support at the 10,650 area, then the next logical price point is at 10,570 where a sustained platform awaits.
These areas of support and resistance are clearly defined on our volume at price histogram on the left hand side of the chart. Where the index is trading at present we have two wide volume bars between 10700 and 10850 and will require a significant effort to breach. To the downside we have the deep platform of support as evidenced by two ultra high volume bars, a visual clue to the effort that will be needed to break through.
By Anna Coulling