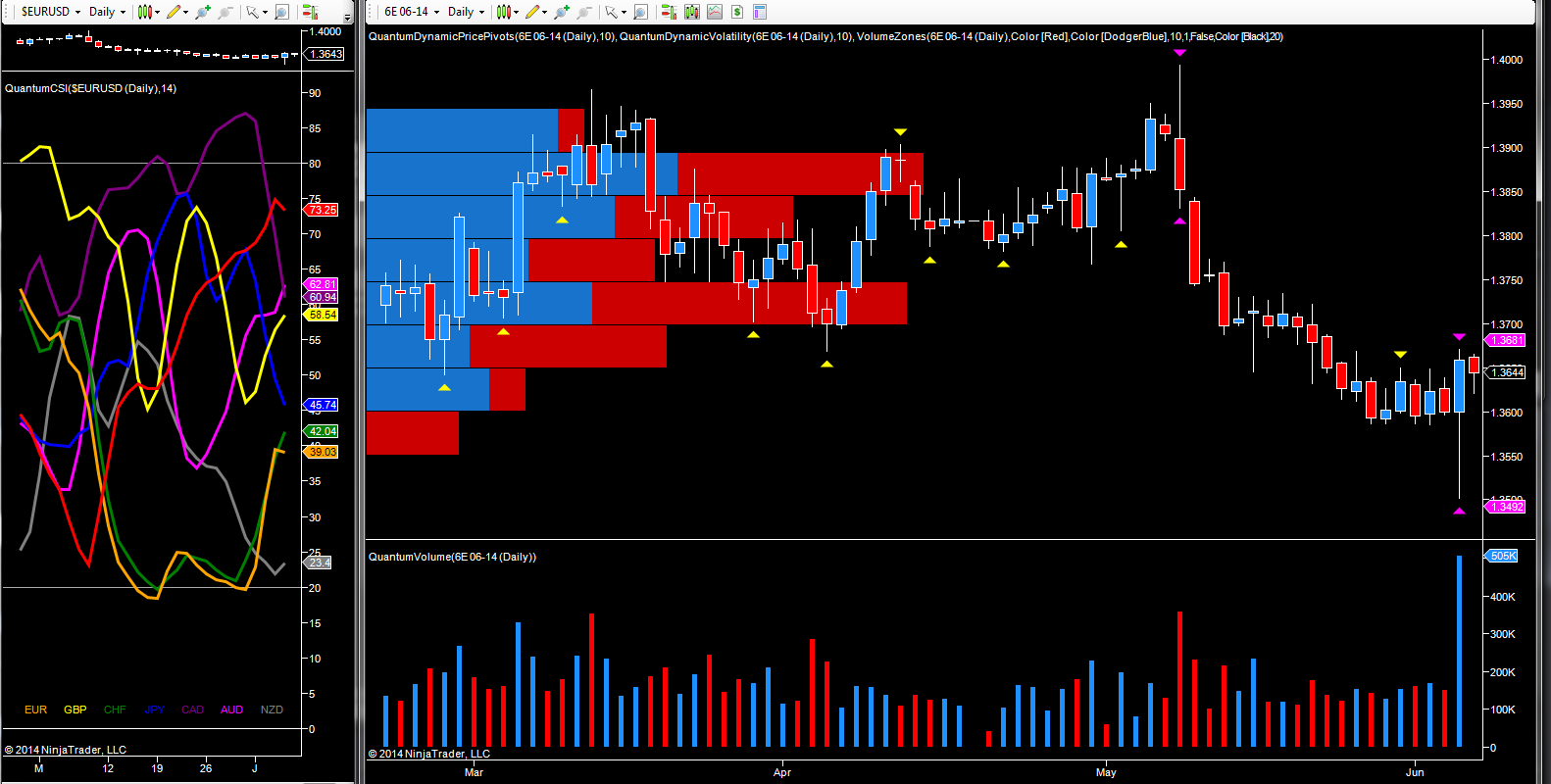 Yesterday's price action on the daily 6E June futures contract for the euro dollar was a master class, both in terms of market manipulation, and also in the power of volume price analysis to reveal the truth behind the price action! Perhaps more importantly, it also reveals where the pair are heading next!
Until yesterday's announcement, the EUR/USD had been becalmed for the last two weeks, trading in a tight range on both spot and futures markets, and with less than 100 pips defining the upper and lower ranges. Mario Draghi and the ECB then took centre stage yesterday, with the pair initially plunging fast, as euro bears piled in for some 'easy profits' before the market makers promptly reversed the move, to recover from the 1.3502 low of the session, and to close at 1.3658, with the bears squeezed yet again. The depth of the lower wick on the daily candle tells its own story, sending a clear signal of a bullish reversal, with the ultra high volume merely confirming the picture, if any further evidence were needed. With such a strong signal, there is only one way that the EUR/USD is heading now, and that's higher, back to test the 1.3725 area initially, and provided this level is breached, then expect to see the eurodollar pair continue upward to test resistance in the 1.3800 area and beyond.
From a fundamental perspective, the statement and decision from the ECB was clearly far less than the market expected, with Draghi's water pistol not considered of much use in dampening the deflationary spiral. No doubt he and the bank will deploy some larger weapons in due course, since the reaction was not quite as expected!! But for the time being, both technically and fundamentally the euro is set for some strong gains over the next few weeks. Euro strength is here to stay, with the ECB left wondering which weapon to employ next!
By Anna Coulling