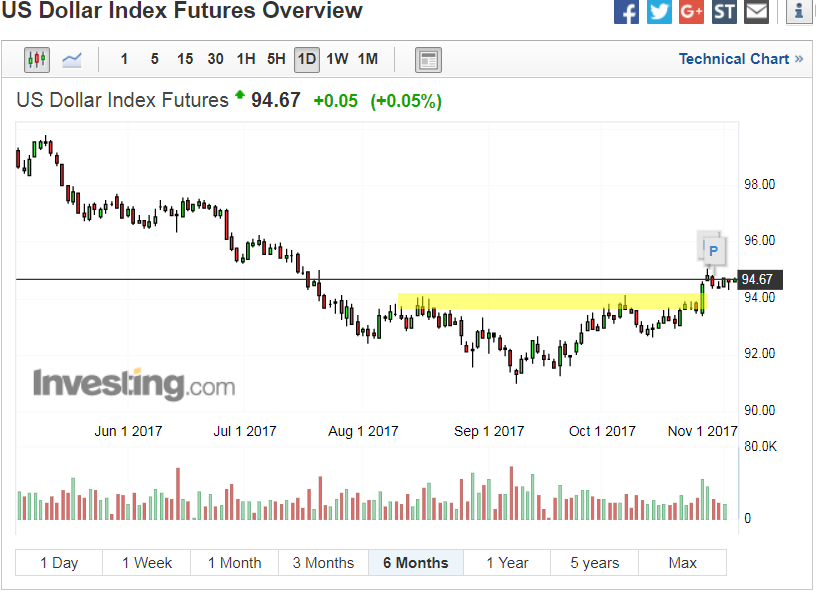 Just waiting for the last of our trio of USD events, and as mentioned in my last post FOMC was indeed the non-event many suspected it would be. Powell has now been confirmed as the next FED Chair, and barring any mishap before the Senate Banking Committee, will be taking up his new post in February.
And now we are just waiting for the NFP, where forecast is for a good number, 312K, but for average earnings to come in lower at 0.2% against last month's 0.5%. As mentioned in my previous post this is the number traders will be watching and now just waiting for the NFP where strong numbers are expected, but last month's performance, anything will be better. Average earnings will be the number to watch. Forecast is for a drop to 0.2% from last month's 0.5%.
For the first two events have managed to give the USD a degree of bullish momentum with the DXY staying firmly above the 94 level, but so far not quite managing to regain Monday's 94.83 high, which is the first price objective if this bullish tone is to continue. A failure to move through this price point would see the DXY move back to the 94 region where the index will, at least, find a degree of support.
By Anna Coulling