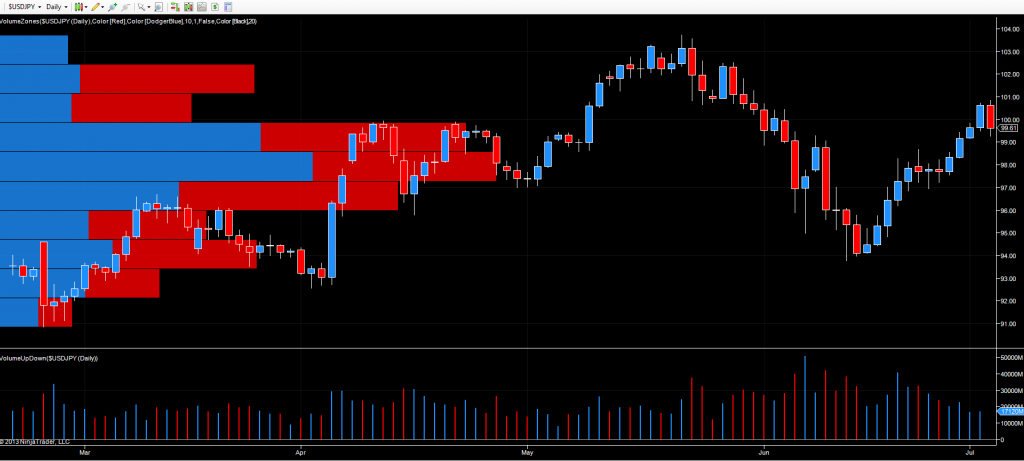 The last few weeks have produced an interesting phase of price action for the usdjpy, with the pair coming to a shuddering halt at the 104 price point, following the extended and bullish trend triggered initially by the Japanese government back in October 2012.
Since mid May the pair has pulled back from its meteoric rise before finally finding support in the 94 price region. What was interesting for volume/flow traders during this period of negative sentiment, was the relatively low level of selling associated with some wide down candles, a signal in itself that the downward move was lacking momentum and participation.
Bullish momentum has been restored, and has given the pair the impetus to move back to recover the key 100 price point with today's price action pulling back from yesterday's close of 100.61. However, it is interesting to note on the daily chart that this bullish phase of price action is now associated with declining volume/flow, particularly over the last few days with a sequence of four consecutive up days. It is not surprising, therefore to see today's minor pullback with profit taking at this key level.
This price action notwithstanding, the significant levels of price support are now clearly defined by our volume at price histogram (on the left of the chart) which extend from 96.50 to the downside through to today's current trading level at just below 100.  Provided this platform holds, then we can expect to see further bullish momentum in due course and as long as flows pick up on any sustained move higher, then a break above the recent 104 high should help the pair resume the longer term bullish trend.
By Anna Coulling