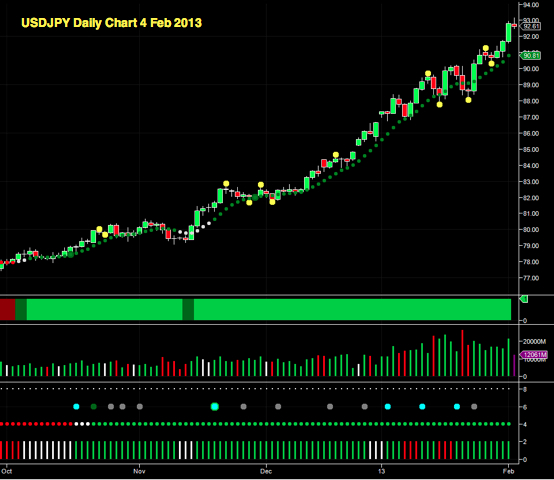 Another extraordinary month for the usdjpy which saw the pair continue to climb higher, ending last Friday's trading session as a wide spread up candle and ending the week at 92.81, having peered over the parapet of the 93 price point.  Indeed, this level has already been tested in this morning's trading as the pair now consolidate in a narrow range in preparation for a further move higher, in due course.
Last week's price action is firmly based on a move beyond the short term consolidation in the 91 price area, which then provided a nice platform of support for both Thursday's breakout and Friday's subsequent validation of the move higher.  This bullish sentiment was also given a further boost by the isolated pivot low at 90.30, posted on 29th January.
Friday's price action was also accompanied by rising volume, adding further to the bullish sentiment for the pair, and both the daily and three day trends remaining green, along with the green heat map we can expect to see a further leg higher.  The next target, clearly in sight, is at the 94.78 price point, last achieved in 2010.
By Anna Coulling
Come and join my live training room and discover why in today's complex markets price behaviour holds the key to your trading success.