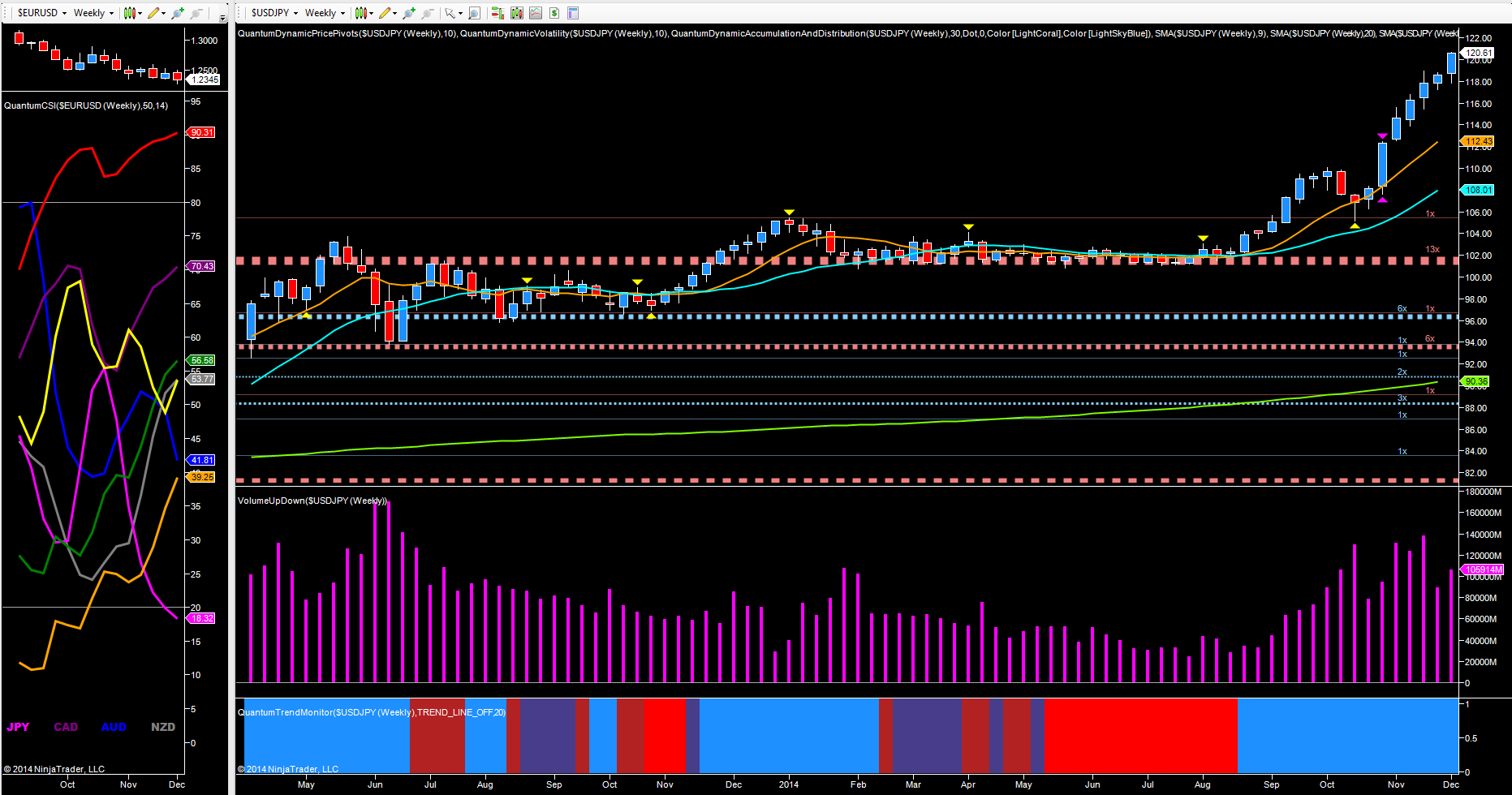 With the Japanese polls suggesting a landslide victory for Shinzo Abe's Liberal democrat party, it's business as usual for the Japanese yen which continues to weaken ever faster, surging through the psychological 120 level in early trading and moving firmly higher to 120.64 at the time of writing. This is a price level not seen since 2007, and likely to be one of many historic levels breached in the next few months, with further weakness on the horizon. The campaign has broadly been pitched as a referendum on Abenomics and his attempts to put in place a structure which combines stimulus and deregulation in order to drag the Japanese economy out of the slough of deflation which has become the characteristic over the last decade. And taking centre stage is the Japanese yen.
From a technical perspective for the USD/JPY pair, 2014 could be summed up as a game of two halves, with the first 6 months of congestion, in sharp contrast to the second which has seen the pair develop a longer term trend driven by the BOJ and supported by Abe's policies. Indeed, if any confirmation were needed of the move higher one only has to consider the associated volumes on the daily chart, which both confirm and validate the price action over the year. During the first half, volumes were well below average and falling, as the pair traded in a tight range between 103.40 to the upside and 101.20 to the downside.
However, as soon as the breakout arrived, volumes increased dramatically and have been doing so ever since, with the minor reversal in October finding further buying support before continuing higher once more on rising volumes, again confirming the strength of the bullish trend. The question now is how much further, and with little resistance now ahead, a test of the 124.13 high of 2007 seems increasingly likely in the first quarter of next year.
Finally moving to the currency strength indicator to the left of the chart, this picture is confirmed with the US dollar (the red line) continuing to climb into the overbought region and the Japanese yen ( the purple line) moving deeper into the oversold region.
By Anna Coulling