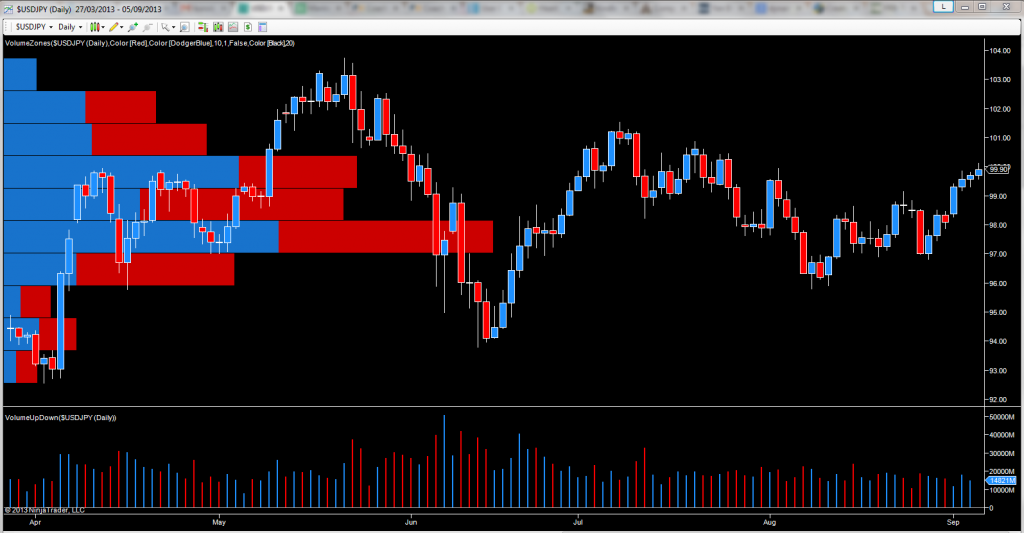 Following an extended period of sideways price action in the 96 to 98.50 region, which lasted throughout much of August, the usdjpy has finally found some traction, and now looks set to move beyond the psychological 100 price point.
The bullish tone for the usdjpy has been largely driven by a return of risk appetite which has been given a boost by comments from BOJ Governor Kuroda in his recent monetary policy statement. In this statement Gov Kuroda restated the Bank's commitment to further QE, and to continue to aim for an inflation target of 2%.
From a technical perspective it is interesting to note that whilst the initial surge through 99 occurred on a wide spread up candle, consequent follow through candles have failed to mirror this bullish momentum, and indeed this also seems to be case today with the pair teetering marginally below the 100 price point and confined to a narrow range.
It is also interesting to note the associated volumes, which are relatively low, and indeed this was also the case on the wide spread up candle of 2nd September. Not a convincing sign and suggesting that the pair was once again running out of steam, and unlikely to move much higher based on the analysis of volume and price. In addition, moving to the volume at price histogram, the pair is current trading within an extremely deep area of price congestion – the equivalent of wading in treacle – and for any sustained move higher the pair will have to break and hold above the 100.50 and then on to test the technical resistance at 101 of late July.
Given the lack of volume over the past few days this all seems unlikely at present, and as such expect to see the usdjpy falter and pullback from this level once again – back into the treacle!
By Anna Coulling