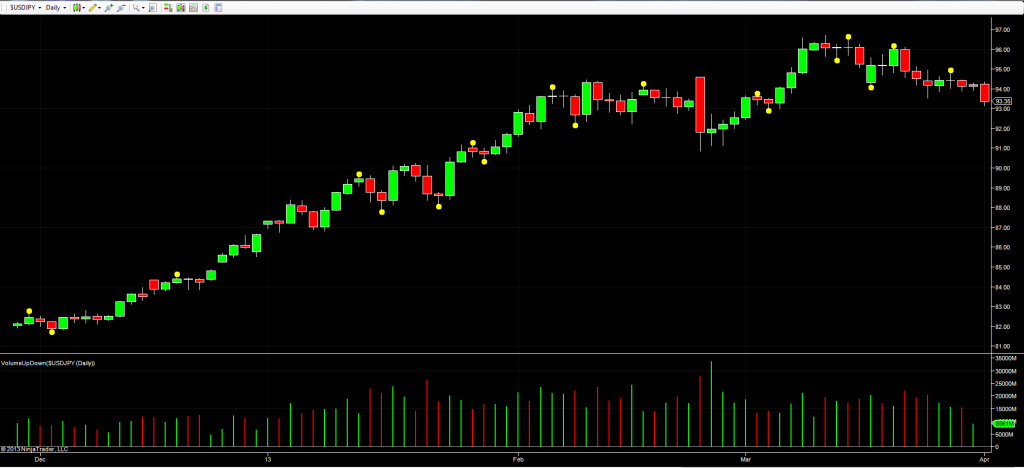 The USD/JPY has continued to extend the negative tone of the last few weeks once again in trading today, which saw the pair run into resistance in the 96.50 region, and gradually slide lower, to test the 94.00 region during much of last week. This level has subsequently been breached in todays forex trading session, with the pair moving firmly through this area and down towards the 93.00 region, to currently trade at 93.33 at the time of writing, with a wide spread down candle.
The initial weakness in the 96.50 region was first signaled by the isolated pivot high at 96.61, with further negative sentiment following with a second at 96.14. A further bearish tone was added last week with the isolated pivot high at 94.92 on Wednesday as the pair consolidated in a tight range. This platform of potential support now appears to have been breached in today's trading, and should we see a close near 93.00 tonight, then this will add further weight to the move lower.
Moving to the daily volume, there is very little evidence here to suggest that this is anything more than a minor pullback. Whilst volumes are above average, there is nothing to suggest a distribution phase or selling climax in the 96.50 region, and indeed volumes have been falling generally, suggesting a lack of momentum in the move lower. The key to any reversal higher from this level is twofold.
First, the platform of support in the 93.20 region needs to hold. Second, we need to see some stopping volume, as buyers return at lower levels, and should these two factors combine, then we can expect to see the pair find some traction at this level and recover to re-test the 96.50 region once again. However, should the 93.20 region fail to hold, then in the short term we may even see a test of the 91.00, last seen in late February.
By Anna Coulling