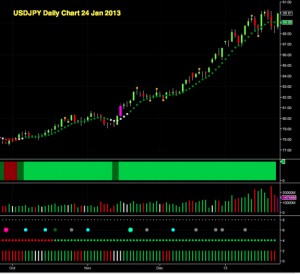 Following a period of sideways consolidation over the last few days above the 88 price region, the USDJPY now looks set for a further attempt at a break and hold above the psychological 90 level with the pair currently trading at 89.85, at time of writing.
Given its recent extended bullish trend it has been no surprise to see the pair pause at this level and enter a congestion phase currently defined by the 90 price point to the upside and the 87.80, isolated pivot low to the downside.
The last two days has seen a significant increase in volumes on the daily chart, primarily selling but yesterday's volume was also coupled with a narrow spread doji candle suggesting a market bounce which has duly arrived in today's trading session.
Whilst the trend for the usdjpy has flattened, sentiment still remains firmly bullish with the three day trend and volumes also reflecting this positive sentiment view.  The technical picture is also underpinned by the fundamental backdrop of the Japanese's government determination to weaken the Yen still further.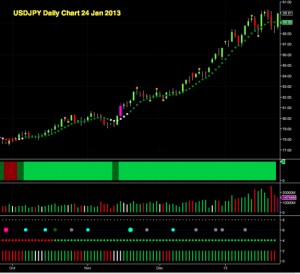 In the medium term and moving to the weekly chart the next target area to the upside is the high of 2010 at 94.97.
One significant aspect of the weekly chart to note is the volume which over the past 4 weeks has been rising in line with a rising market adding further weight to this analysis and suggesting that the current trend has still some way to go.
By Anna Coulling