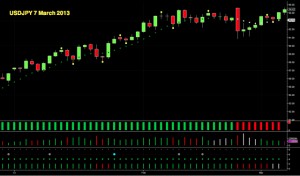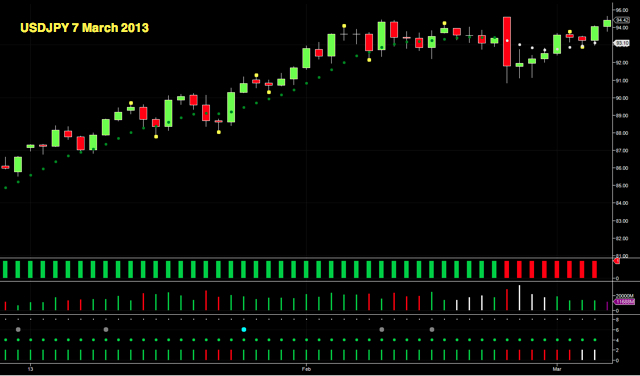 The dollar yen is once again marching north having regained its bullish momentum in the past couple of days, it now looks set to break through the recent sideways consolidation which has confined the pair to a narrow range for much of February.
This restrained price action was no great surprise following the dramatic breakout and run higher that has seen the pair move from last December's low in the 81 price area to today's level at 94.44 with the pair now starting to test the 95 price point.
Throughout this period, the 3 day trend has remained firmly bullish whilst the daily has been in a transitional phase for several days (white). However, provided today's positive price action holds, we should see a resumption of the bullish trend here as well.
Moving to our other indicators this positive tone should also be reflected in the heat map, which although bearish at present, will also return to green in due course.
The buyers have also returned in force, particularly on the daily chart and on the 3 day chart we are merely waiting for the "no demand" volume in white to transition back to green.
In the longer term expect to see the pair continue higher and ultimately test the isolated pivot high at 101.45 in the medium term.
From a fundamental perspective in a week dominated by central bank releases the BOJ is the last to report, with the Monthly Report out on Friday.  Prior to this the current account numbers will be released which is directly linked to currency demand.  The forecast figure is 0.11T against a previous of 0.10T, so an interesting number to watch given the technical picture.
By Anna Coulling
Come and join my live training room and discover why in today's complex markets price behaviour holds the key to your trading success.