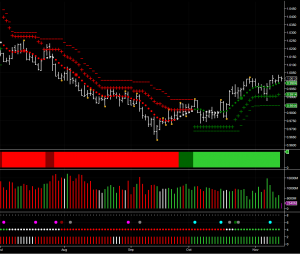 The USD/CAD is at in interesting point on the daily chart once again, having recovered from last week's minor sell off, which saw the pair test the 0.9900 region, as the bears temporarily took control on Wednesday last week. Since then the bulls have been out in force, helping to push the pair back above the psychological 1.000 price point, as we continue to trade in a narrow range. Yesterday's price action saw the pair close marginally above this level, but this morning's price action has seen the pair cling to this key level once again.
Despite this, the outlook for the USD/CAD remains firmly bullish ahead of some key data this afternoon for the US markets, with core retail sales, retail sales and the monthly PPI numbers all set for release.
Moving to the charts, volumes on both timeframes remain firmly bullish, and the only significant point to note here is that the volumes on the daily chart have been falling over the last few days. Whilst this is not significant in itself, it does suggest that the bulls are drifting away, and confirming the lack of momentum for the pair which is now clearly in evidence. However, this is counterbalanced by the strong volume bar seen on Wednesday, which helped to push the pair back from the 0.9914 region and towards parity. Moving to the three day chart, the trend here is firmly bullish, and mirrors the trend on the daily chart, with the volume also reflecting this sentiment, and indeed last week our trading indicators delivered a further conservative entry signal, adding further weight to the analysis.
With bullish sentiment also firmly in evidence on the dollar index, this will also be reflected in the USD/CAD. The next key area is the price congestion from 1.0100 and which extends through to the 1.0450 region, clearly defined with the isolated pivot high of early June. For now, the key is a clear break and hold above the 1.0050 region, and once clear, this will then provide a solid platform of support, and a springboard for the next leg up in the current bullish trend, which should see the pair test the underside of the price resistance in the 1.0100 region and beyond.
By Anna Coulling