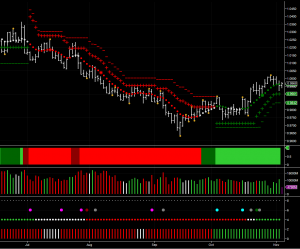 An interesting week for the USD/CAD which struggled to breach parity, and closed on Friday marginally lower, following a bounce off the low of the day at 0.9921, to finally end the week at 0.9955. So where next for the pair? Well, with the short term platform of price resistance now clearly in place at the 1.0012 level and validated with the isolated pivot high of Tuesday, this is the key level for the pair, and for a continuation of the recent bullish momentum, this price area needs to be breached for the USD/CAD to move higher.
On the daily chart, buying volumes remain strong and coupled with the daily trend and the trading indicator, are all adding to the bullish tone. Indeed this was also confirmed on Friday's price action, and despite the pair closing lower, the volume was not only buying, but also rising, adding further to the bullish picture.
The three day chart also confirms this analysis, with solid buying in this timeframe and with the three day trend also firmly bullish, this is confirming the positive sentiment for the USD/CAD which is currently trading at 0.9968 at the time of writing. A clearance of the 1.0012 region will then open the way for a sustained move higher, with the next logical target on the daily chart being the deep resistance in the 1.0150 area, which then extends through to the pivot high of late May at 1.0450.
By Anna Coulling