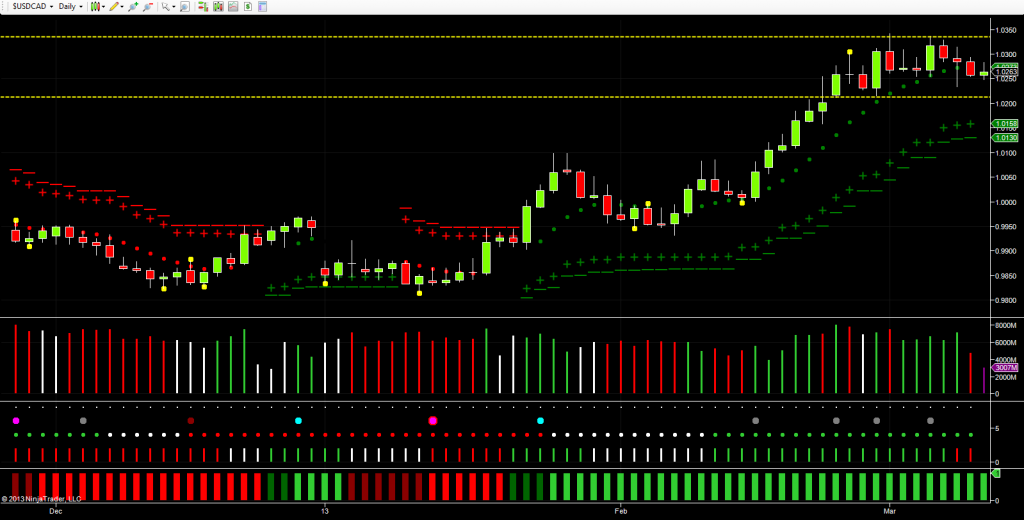 The USD/CAD continued to trade in a narrow range once again last week, and extending the current consolidation phase, as the pair struggle to break through the 1.0350 region on the daily chart, which has now been tested on three separate occasions.  The most recent failure was on Thursday last week, which was followed on Friday with the NFP release, which initially saw a sharp sell off in the US dollar against the Canadian dollar.
before the pair recovered to close marginally lower on the day.
This volatile price action resulted in a hanging man candle on the day, adding a further layer of negative sentiment, and giving a clear signal of further potential weakness in the short term.
Moving to the technical indicators, daily volumes throughout the last two weeks have been above average, and indeed initial signs of weakness were first signaled back on the 22nd February, with a shooting star candle accompanied with high volume, which was then repeated two days later, and further validated with an isolated pivot high. These were the early warning signs of a market running out of steam, with the buyers struggling to push prices any higher, and overwhelmed with sellers coming into the market. Indeed, this negative sentiment has since been reflected on the longer term chart with volumes here also changing to bearish. However, the three day trend remains bullish for the time being, and for any longer term change, we need to see this transition to white or red. On the daily chart the trend dots have now flattened and we are waiting for a transition to bearish to confirm the change in trend.
From a technical perspective the key price levels are now as shown with the yellow dotted lines above and below the current congestion area. A break below the 1.0220 region will see a further reversal and trend lower, with the upper level of price resistance now clearly defined at the 1.0350 area.
By Anna Coulling
Come and join my live training room and discover why in today's complex markets price behaviour holds the key to your trading success.