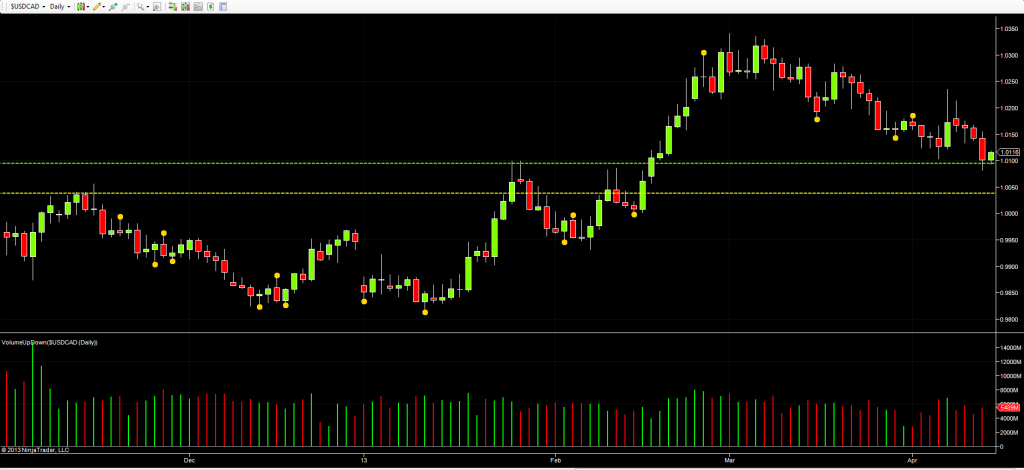 The USD/CAD continued to move lower once again yesterday, ending the forex trading session with a wide spread down candle and closing the session at 1.0101, sliding back to parity once again. This recent bout of bearish sentiment was first signaled on Friday, following the NFP data release in the US, and whilst the pair closed higher on the day, it was the depth of the upper wick which gave a clear sign that market sentiment was weak, and unlikely to follow through into a short term reversal higher. This was duly confirmed on Monday with an inside day shooting star candle, a classic signal, and the rest as they say, is history.
Yesterday's price action was significant for two reasons.
First, the close of the day ended below the potential platform of support in the 1.0130 area, a secondary level. Second, the low of the day tested the more significant support level just below the 1.0100 area as shown with the green dotted line, and for any reversal, this level needs to hold. Below it, awaits a further area of potential support as shown with the yellow line, just ahead of parity.
So what of volume?
Well Friday's candle of last week was validated with high volume, confirming this was selling volume. After all, if it had been buying, then the candle would have closed with a wide spread, and no wick. It didn't, and the clue was in the height of the wick. Since then the move lower has seen strong and generally rising volume, suggesting further selling pressure, but as yet we have seen no evidence of any buying or stopping volume to date.
With the deep area of price resistance now above, any recovery for the pair will need to be accompanied with sustained and rising volumes on any up days. But with the technical support levels now in place, these may provide the platform of support required for the pair to rebase and start building from this level once again.
By Anna Coulling