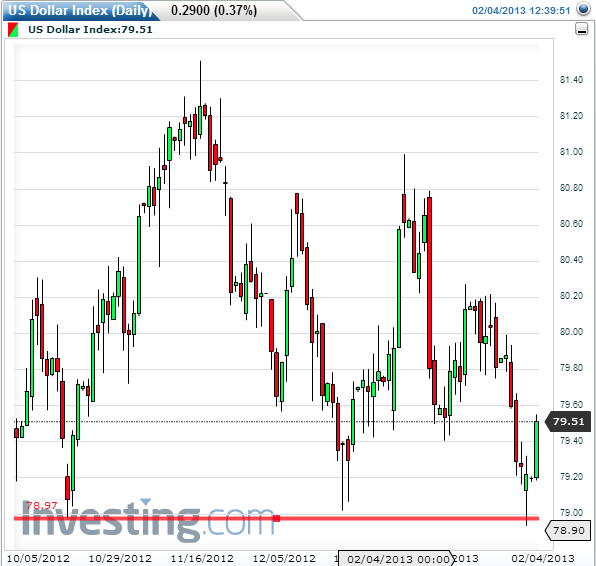 With a frantic January now over and which saw many markets and instruments gain some much needed momentum, the question facing traders is whether February will follow suit and build on this platform of bullish sentiment.
For forex traders the standout currencies were of course, the Japanese Yen and the Euro, both of which staged dramatic moves.
So, as always I like to start a new month with a look at the Dollar Index and, in particular, the daily chart where the index is at an interesting technical point, once again.
In last week's trading session it was last Thursday's doji candle, a classic candle reflecting market indecision, gave us some initial clues as to what we could expect. And indeed Friday's price action duly confirmed this indecision with a second and subsequent "indecision" candle which saw the index close, off the session lows at 79.22, having found some support in the 79 price area.
Indeed, this has been a feature for the index over the last few months, with price action contained in a narrow trading range, between this level to the downside and 81.40 to the upside.
It was therefore no surprise to see the index trade higher in this morning's trading, replicating the price action of both mid December and mid October.
This technical picture has, of course, added a further layer of support to this price platform and, provided it holds, then expect to see the Dollar Index push higher once again, possibly back to re-test the 80.20 price point, or beyond, in due course.
However, to the downside any breach of the 79 price area will cause significant structural weakness to the US Dollar with a possible deeper move to re-test the 78 area of November 2011, if the current platform of support does indeed fail to hold.
By Anna Coulling
Come and join my live training room and discover why in today's complex markets price behaviour holds the key to your trading success.