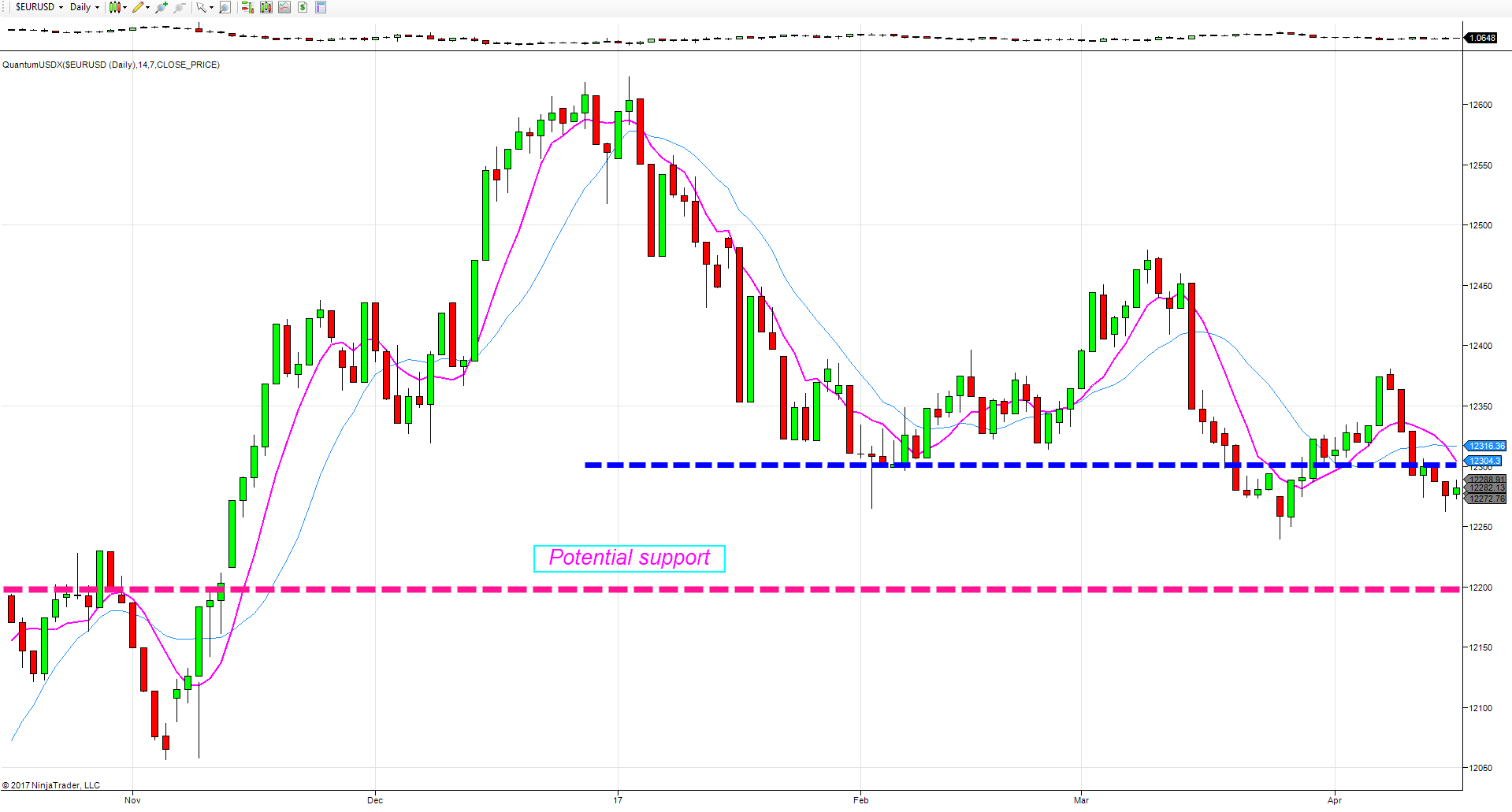 As markets return to full participation following the Easter recess, and as a new trading week get's underway, I thought it would be apposite to consider the three primary currencies of the US dollar, the yen and the euro on the daily timeframes. And for those of you who may be wondering why I have not been posting regularly over the last few months it is simply because I have been involved in my own trading, and also completing a comprehensive forex trading education course which will be available very soon.
And if we begin with the dollar index, the sentiment for the currency could best be described as one of bullish exhaustion as divergence seems to be the order of the day. Divergence which is seen within the FED itself as members openly disagree, divergence by the markets who increasingly take all statements and comments from the FED with rising disbelief, and divergence from the White House who are now openly signalling the desire for a weaker currency. This maelstrom of divergent opinion is reflected on the daily chart for the dollar index, and having hit a high of 12,620 early in the year, has since descended lower, first rallying to a lower high of 12,480 in early March, to finally post a more recent lower high early in April at 12,380 and following the comments from Donald Trump. From a technical perspective last week's close below potential support in the 12,300 region was signficant and denoted with the blue dashed line, and with little in the way of potential support in the immediate area, should the 12,250 price area be breached, then the index looks set to continue lower still and down to test the 12,200 area in due course, and denoted with the pink dashed line.
As always with the dollar, any escalation in tensions in North Korea are likely to see buying of the currency on safe haven flows, and this may indeed inject some short term bullish sentiment, but for the longer term, the outlook for the dollar remains bearish, and reflecting once again the divergence between the FED, the markets, and the fundamental picture. Whilst the FED may wish to paint a rosy picture of the economy, the markets clearly consider the opposite to be true, and with a two year track record of failing to deliver, there seems little prospect of a change in 2017, with Donald giving the currency a healthy shove lower.
By Anna Coulling