It's been a tough couple of weeks for eurodollar traders, with the pair trading in a congested range, testing the 1.3780 floor to the downside and the 1.3870 ceiling to the upside on the daily chart. The two pivots lows last week and the week before, neatly define the platform of support now in place at the 1.3770 level, with the volume at price histogram completing the picture and clearly indicating the depth of potential support in this area. What is perhaps more significant for the pair is the general decline in futures trading volumes over the last few weeks, which simply confirm the lack of interest by the big operators at this level.
Indeed it was no surprise to see the pair stall at the 1.3900 level following four consecutive days of strong gains, which were accompanied by below average and falling volumes, a sure sign of weakness, which was duly confirmed with the doji candle and isolated pivot high on the 11th April.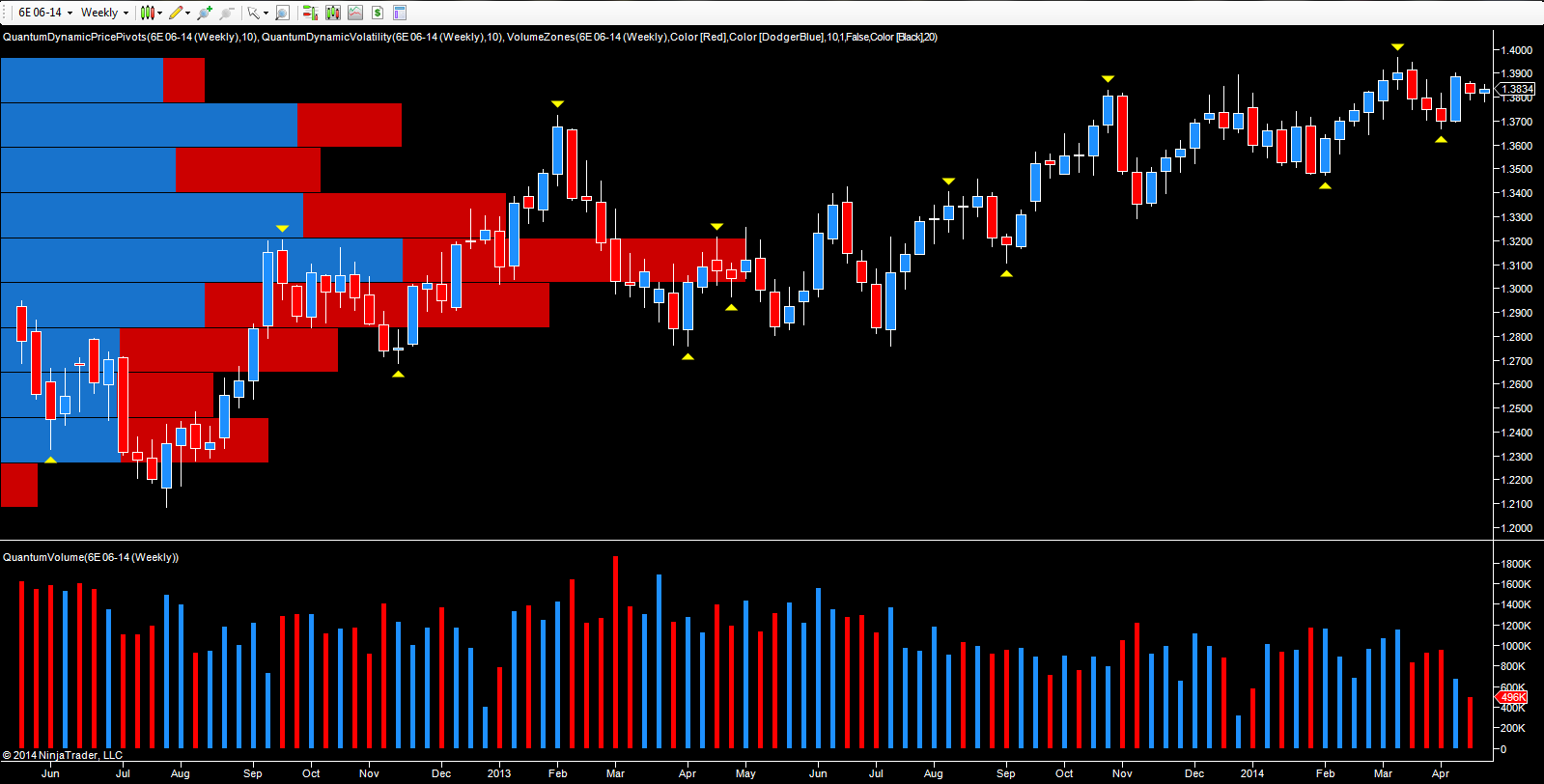 Moving to the weekly chart we see a similar picture, and once again what is perhaps most striking is the general decline in trading volumes of the pair over the last twelve months, with the trend higher, associated with falling volumes. Indeed one only has to consider the wide spread up candle of three weeks ago, and the weekly volume which was below average, to appreciate the weakness at the current level. However, as yet we have not seen a selling climax, which will be the precursor to any sharp move lower, so for the time being volume price analysis suggests further congestion at this level, with a possible test of the 1.3966 high of mid February in due course.
At present, 1.4000 remains a bridge too far, and will only be achieved if the 1.3966 high is taken out on sustained and rising volumes. For its part the US dollar remains stubbornly rangebound on the dollar index, trading between 79.40 and 81.20, and adding further to the current malaise in the pair and others. For the time being, patience is the key. For intraday traders it's a question of in and out quickly – smash and grab! For longer term trend traders its time to wait for volume price analysis, coupled with support and resistance, to send a clear signal of market direction. If the 1.3960 region is breached then this will provide an excellent platform of support for a further move higher. However, should we see a selling climax at this level, then the pair may finally rollover with some momentum – something the euro bears have been waiting for, for a very long time!
By Anna Coulling