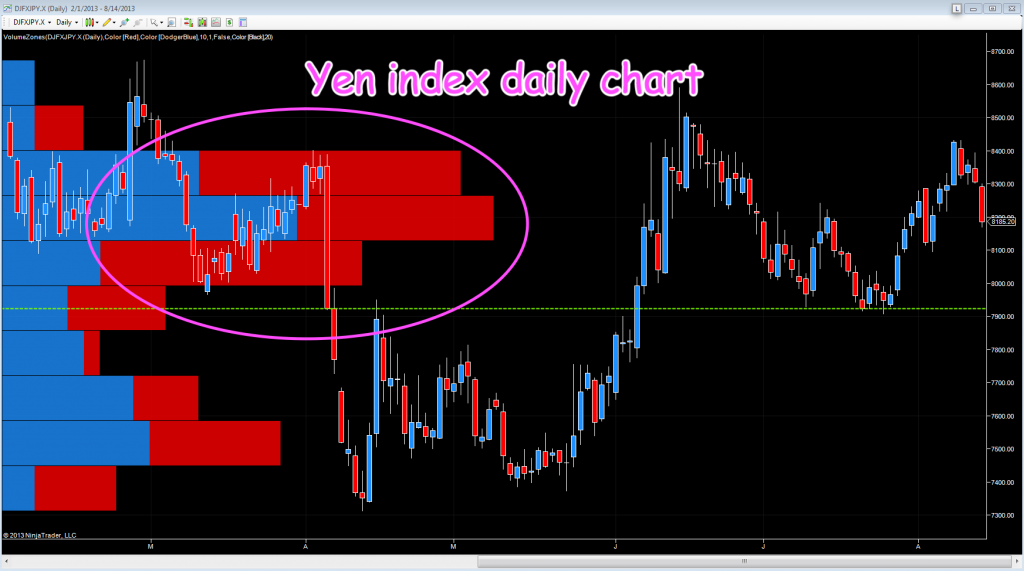 As mentioned in the previous post, the Yen index can give us an excellent perspective of market sentiment, given the Yen's unique position within the forex market as both a currency of safe haven and a gauge of market risk. In other words, when the YEN is weak, equities are rising (in particular the Nikkei 225) and traders are generally taking on more risk. When the YEN strengthens this is a clear signal that markets are unwinding these risky positions and moving into safer assets.
The Yen index is very simple, and represents the Japanese currency against the euro, US dollar, Australian dollar and the New Zealand dollar, with each being given equal weighting.
Moving to the daily chart for the YEN index the recent phase of Yen strength appears to be coming to an end with the index having topped out in the 8450 price region, and in the process completing an 'inside' day candle pattern, giving us a signal of a potential turning point. Above this level, at the 8650 region we have a deep level of price resistance which defines the extreme of recent rallies throughout 2013.
Turning to the immediate price action yesterday saw the index end with a wide spread down candle, confirming the initial weakness and the index now looks set to fall further, possibly to test the next logical level of support at 7950 (as shown by the green dotted line). Should this hold, and indeed as has happened in the past, then we may see a further phase of Yen strength, resulting in a pullback in riskier markets.
The depth of price congestion in the current region is self evident from the volume at price histogram with the upper region now defined at 8400 and the lower level at 8000, clearly depicted by the volume bars. The lower of these is heavily skewed to the bearish side and any break through this level could be significant for all markets.
By Anna Coulling