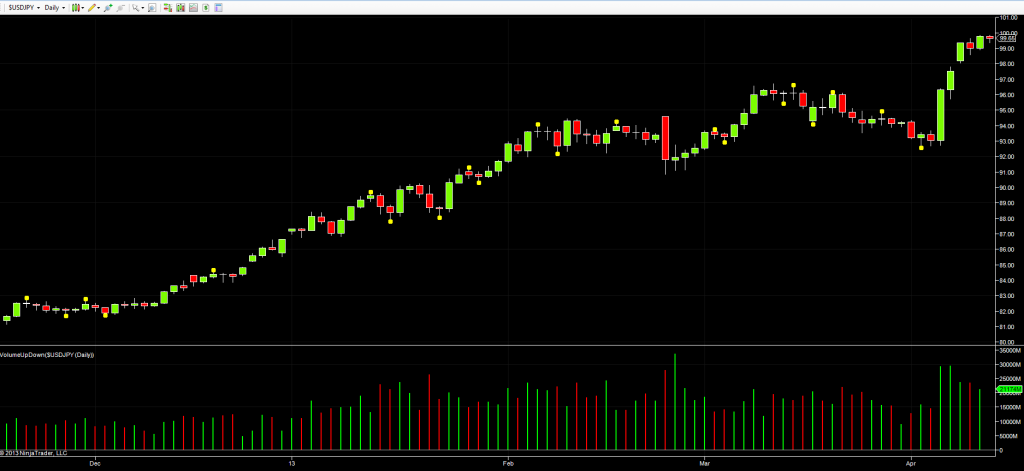 Today is the day that the Yen turns 100, and if he or she were living here in the UK, a telegram would be winging it way in the post to celebrate this significant milestone. Whatever the equivalent is in Japan, I would suggest that the BOJ are preparing theirs now, no doubt delighted and relieved that this significant price point is at last in sight. Remember it was only a few short months ago that the USD/JPY was languishing in the mid 70's with the BOJ standing by to lend support. What a difference now, with the pair peering over the parapet of this 'landmark' number.
This is no flash in the pan on thin volumes either. The move higher over the last few days has been extremely well supported, with solid volumes on every up candle, validating the move higher in every respect. In addition, each of these candles is also significant in their own right, with a lack of wicks to either top or bottom, a sure sign, if any were needed, of strength in the market. With a strong platform of support now in place in the 97 region, there is nothing to stop the onwards march of the dollar yen Northwards. Once the 100 level has been breached, and the celebration party has been held, expect to see the pair continue this bullish trend once again with renewed energy, and push higher to test the 110.65 area of July 2008, yes that was 2008!
Get your party hats and streamers ready, the celebrations are about to start!
By Anna Coulling