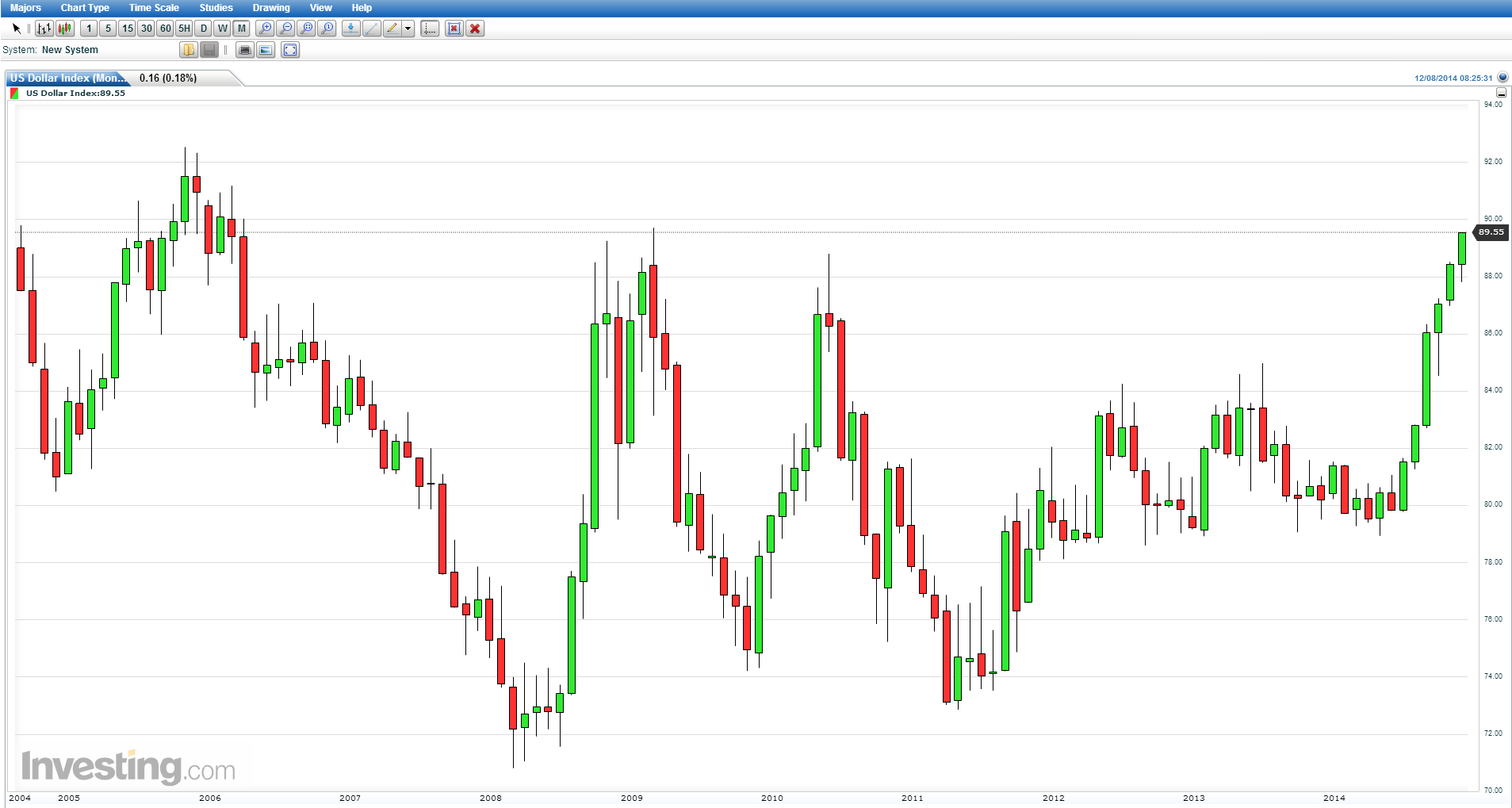 Difficult to believe that until recently the US dollar was being written off by all and sundry, with some even suggesting that its days as the currency of first reserve were numbered. Many were calling for the Yuan to replace it, and even the euro in its current iteration. Others suggested a basket of currencies. How times have changed.
So what has changed? Well much as for the USD/JPY which I referred to in a post last week as being a game of two halves as far as the year was concerned, the same thoughts could equally be applied to the US dollar index, and perhaps the most descriptive chart is the monthly timeframe.
For the first half of 2014, the index remained waterlogged with the price action contained in a narrow range, building a platform of support in the 79 region and an area of resistance in the 81.50 area, and with many analysts having forecast 2014 as the 'year of the USD' it seemed that their forecasts were incorrect. Then in July, the sleeping giant finally awoke from its slumbers, and since then has powered higher with December now looking to add a sixth straight month of gains for the dollar, with Friday's Non Farm Payroll helping to propel the index through the 89 level to currently trade at 89.51 at the time of writing, a level not seen since 2009. Indeed if the 89.71 high of 2009 is duly taken out this week, then we can expect to see the index rise higher still and move to test the 92.53 high of 2005, a level that would have been unthinkable in the summer.
The strongly bullish technical picture is also supported by the fundamental, with recent encouraging statements from the FOMC concerning the US economy providing the platform of the recovery, with interest rate differentials now once again rising in importance. With Europe struggling and even mighty China suggesting a possible slowdown, the US dollar could continue its progress higher still in 2015, and perhaps even move towards 100 in the longer term. To borrow from a popular street art slogan, for the time being 'the US dollar rules OK'!
By Anna Coulling