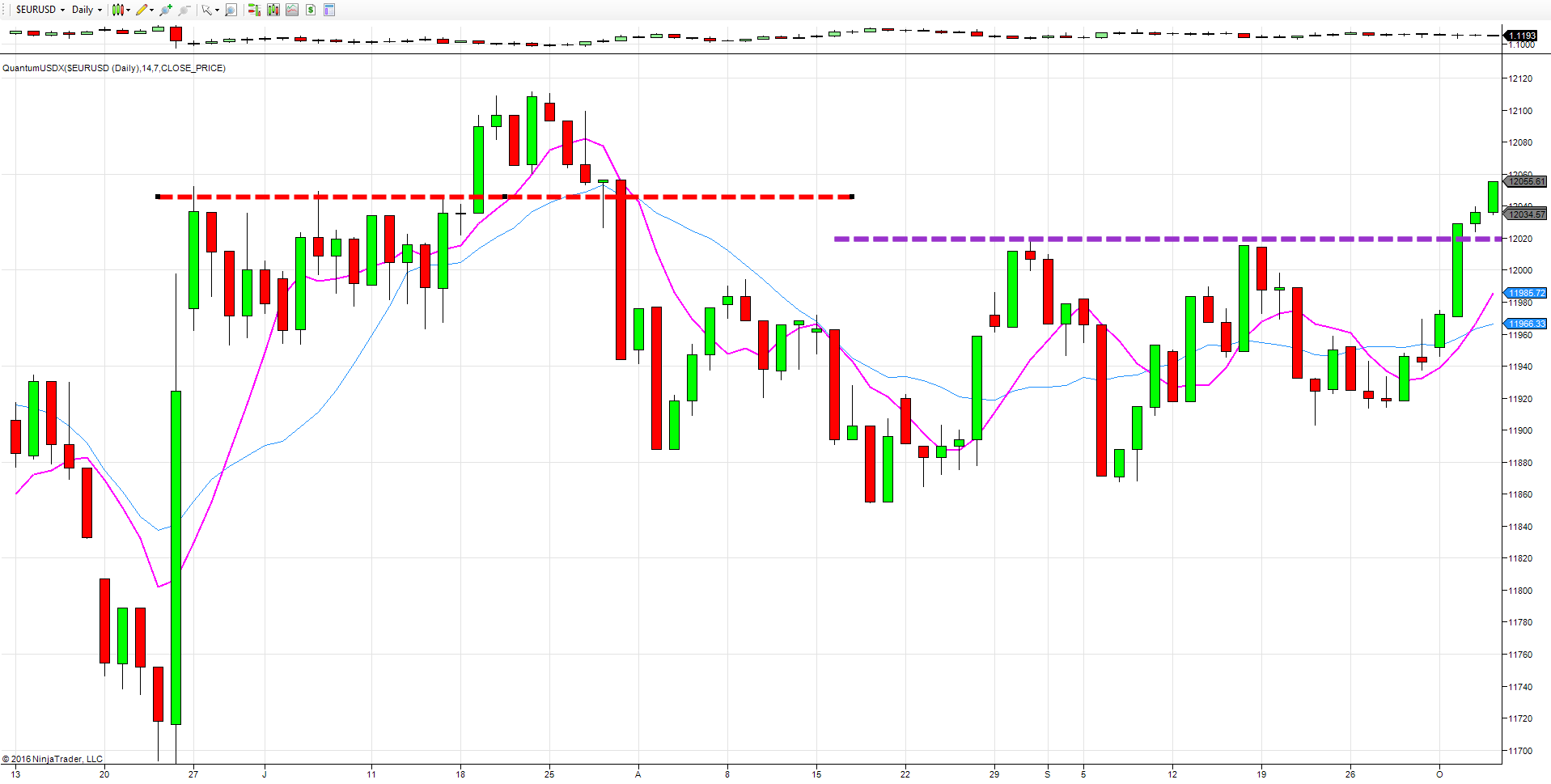 Ahead of NFP tomorrow, all the major currencies appear to have awoken from their slumbers with the US dollar, the Japanese yen and the euro all showing signs of life.
If we start with the daily chart for the US dollar, the extended congestion phase of the last two months appears to be finally unwinding, with Tuesday's strong move higher and wide spread up candle taking the index through the ceiling of resistance in the 12020 area. Whilst yesterday's price action consolidated above this level, this morning has seen a continuation of the bullish break higher with the index climbing further to currently trade at 12053 at the time of writing. Below we now have a solid platform of support in place in the 12020 area and denoted with the purple dotted line, and provided the index holds above the current trading level of 12050, then this will also add a secondary layer of support to the left of the chart in this region, and marked with the red dotted line. If so, the 12110 high of July is then firmly in sight for the index, as the markets prepare themselves for NFP with some way to go before the next Fed meeting.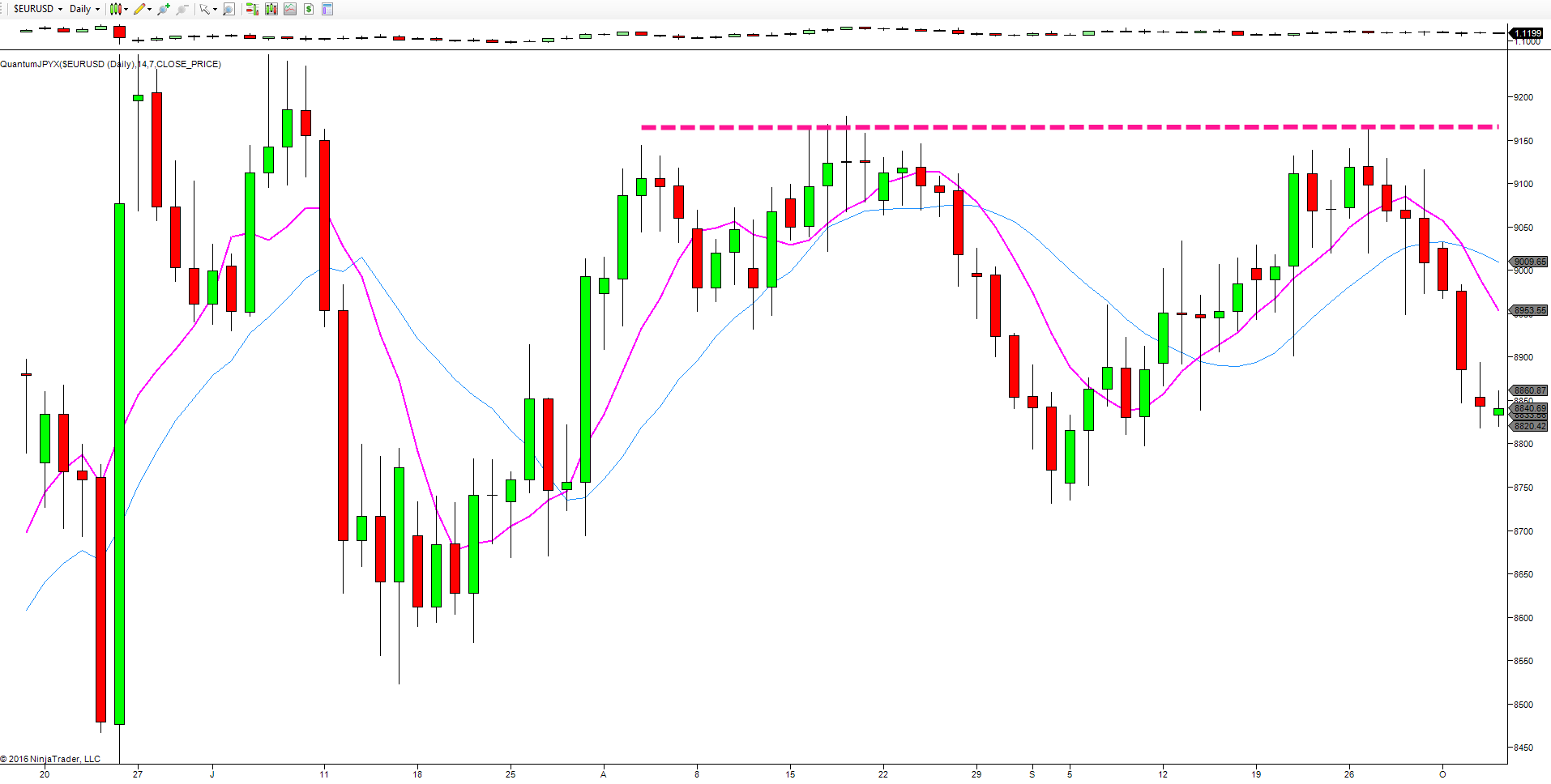 Moving to the Yen index, this too has found some much need momentum following the failure to breach the ceiling of resistance in the 9160 region as shown with the pink dotted line. Since then the index has moved firmly lower on Yen weakness and through the floor of potential support in the 8900 area to currently trade at 8841.15 at the time of writing. Below, we have some extended congestion awaiting between 8600 and up to the 8750 area, and if the current bearish trend is to continue, the index will need to drive through this with momentum.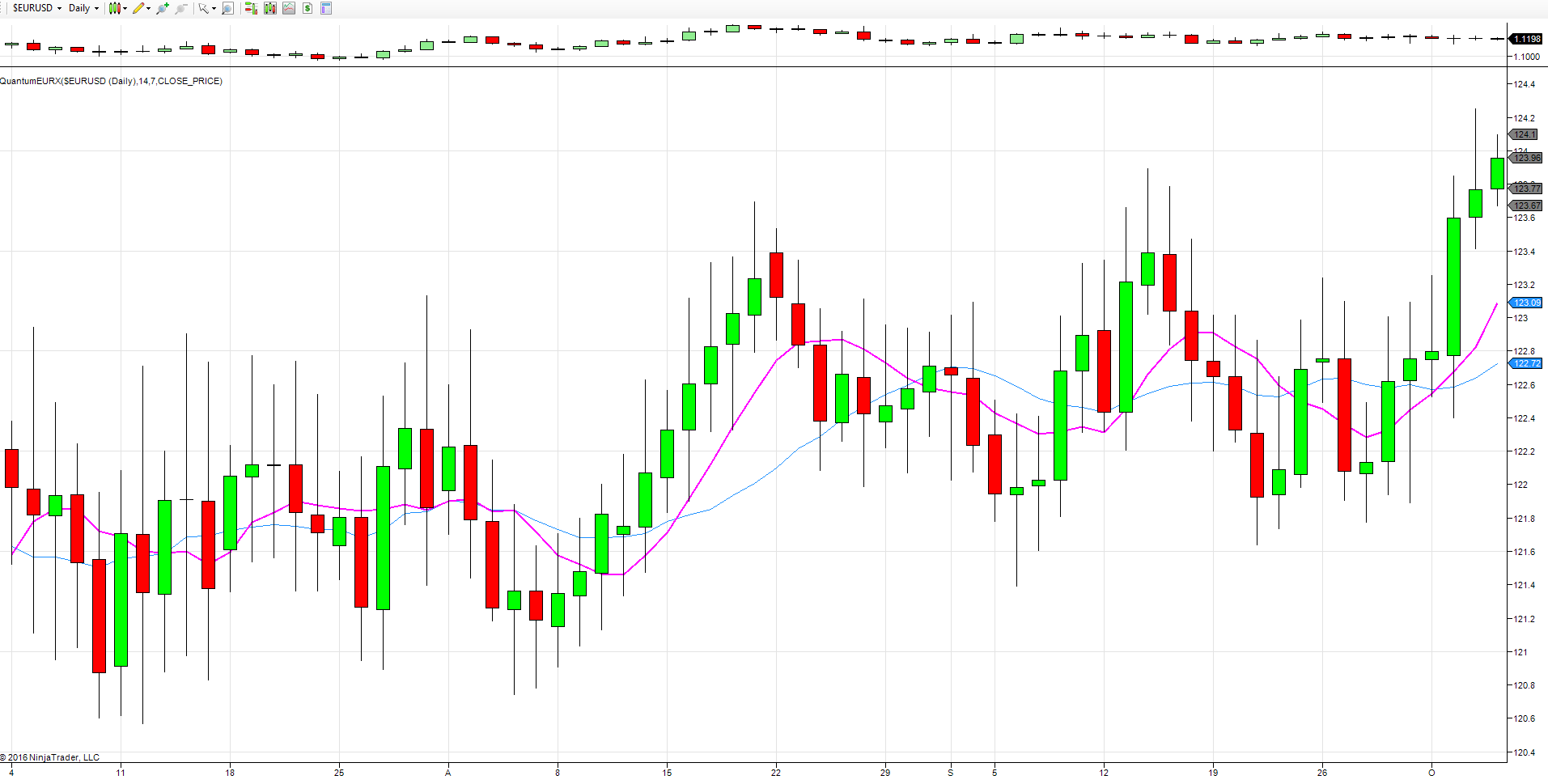 Finally to the Euro index which like the other two, has found some much needed momentum in the last few days, and helped by rumour and speculation of tapering from the ECB. From a technical perspective yesterday's price action failed to take out the high of mid September at 123.93, and indeed closed with a weak candle given the height of the wick to the upper body. Nevertheless, the current bullish momentum for the euro has continued in early trading, with the index climbing to currently trade at 123.94, and testing this area once again. For any continuation of the trend, the daily candle needs to close well above this area today, or we may see a resumption of congestion once again in this area. A solid close above the 124.40 would signal a continuation of the current bullish sentiment for the euro, helped of course by a healthy dose of rumour and speculation!
By Anna Coulling