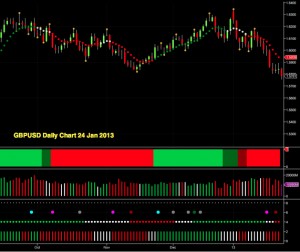 Following three days of sideways consolidation, where the 1.58 level gave some temporary support to cable, the pair has now broken firmly below this price point in today's trading session, moving to 1.5774 and now seeming set to test the 1.57 level where a solid platform of potential support now awaits.
As I mentioned earlier this week, cable's weakness is much more driven by the fundamental and political factors affecting Sterling, rather than any associated Dollar strength.  Indeed, the Dollar Index continues to oscillate around the 80 level on the daily chart where it has remained waterlogged for the past few weeks.  And until we see a firm breakout either beyond the 81.50 area to the upside or the 78.60 the downside expect further consolidation for the USD index.
The primary drivers for Sterling have been the threat of a possible downgrade, weak economic data to which has been added the referendum in Europe in 2017, assuming a Conservative party victory.  Although this seems a long way it is certainly having its own unique impact.
Sterling weakness is also being exhibited in the cross pairs, most notably in the eurgbp and this itself is being driven higher not only by the above, but also a more optimistic view of the euro as sovereign debt issues subside and markets breathe a unified sign of relief.  The eurgbp is currently trading at time of writing at 84.67 and looks set to breach the 85.08 area in due course.  This breakout is firmly signalled on the weekly chart with a strong pennant pattern and a breakout from this pattern in early January.
Moving back to the pound dollar, both the daily and three day trends are now bearish and with sustained selling pressure in both time frames, coupled with a red heat map and deep price congestion above the outlook for cable remains firmly negative, for the time being.
By Anna Coulling