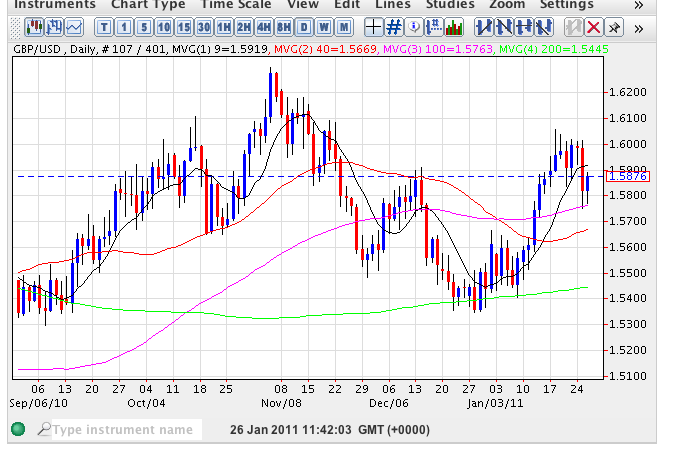 Sterling's recent rally against the dollar certainly petered out with a bang yesterday, following release of dreadful UK gdp figures which came in at -0.5% instead of 0.5%, giving us all a masterclass into what happens when an extreme fundamental piece of news collides with a key technical chart level and reinforced what I like to call, transactional trading which brings together fundamental, technical and relational analysis.
Since the start of the  year – a mere 20 trading days or so , Sterling  has gained almost 700 pips against the US dollar and, until yesterday,  looked set to continue its upwards trajectory with a move back to re-test the November 2010 high of USD1.6299.  However, with the release of the GDP number, the pair fell almost 200 pips, no doubt shaking out a large number of Sterling longs.
However, once  the excitement had died down yesterday's low did manage to find strong support from the key 100 day moving average which has once again provided solid support in this morning's trading, with the pair breaking and holding above the 50% fib retrace level at USD1.5815 and now looking to move towards the 38.2% level at USD1.5927.  Any break and hold above this point would then open the way for a re-test of the USD1.6023 region in due course.  Below, the 200 day moving average continues to provide excellent support to the downside and provided we breach the potential resistance in the USD1.5953 area we should see a further recovery in the pound dollar and the continuation of the upwards trend in due course. The pair was given a further boost this morning following release of the MPC minutes which confirmed that 2 members of the committee are now calling for a rise in UK interest rates.