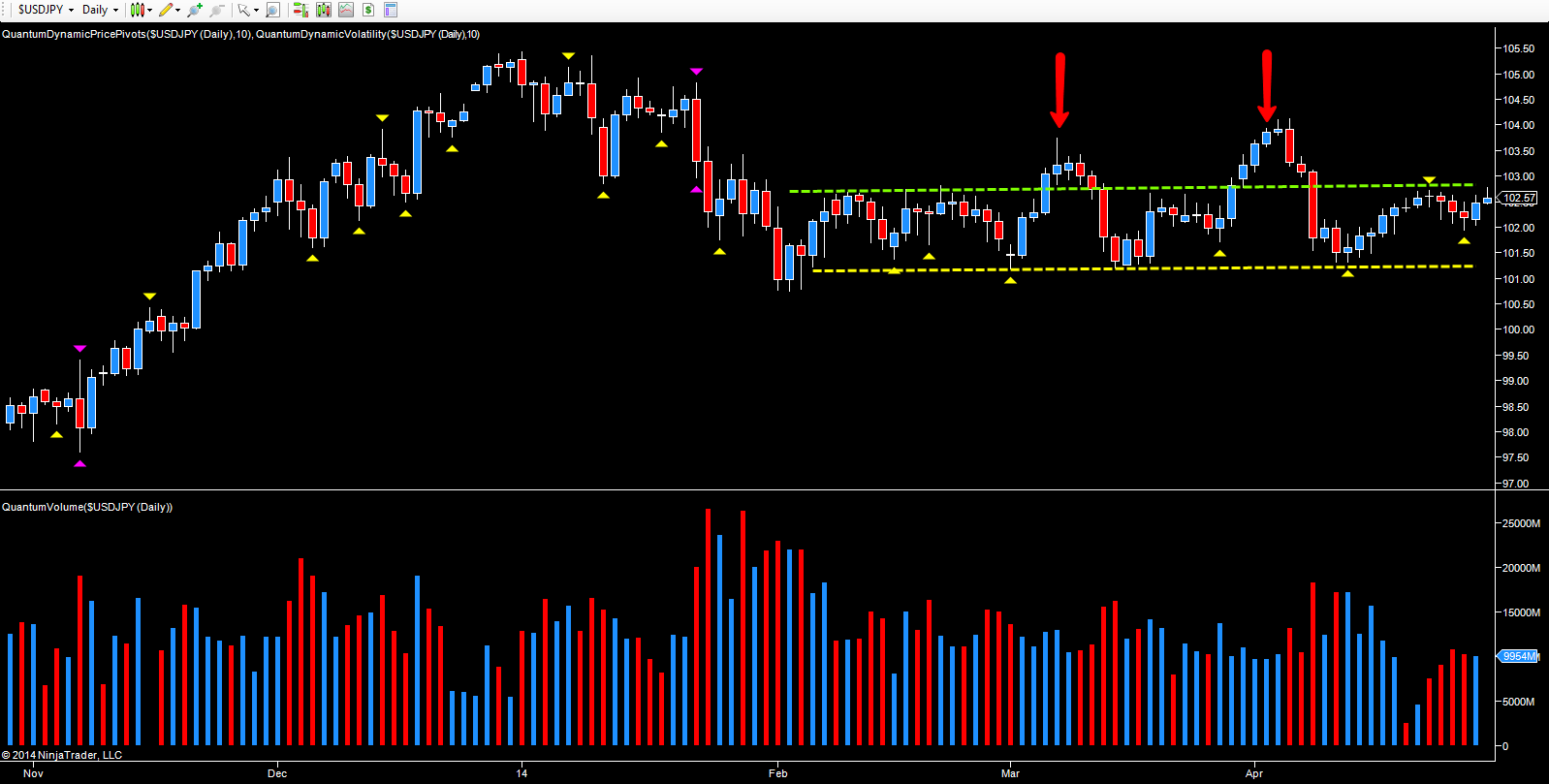 If the end of 2013 for the USD/JPY could be described as dramatic, the start of 2014 could be summed up as 'after the Lord Mayor's show' with the pair continuing to trade in a very narrow range and showing little sign at present of any breakout. Since the start of February, the pair have formed a strong platform of support in the 101.25 area, with the series of pivots lows, defining this region on the daily chart. To the upside, the major resistance level has been building in the 103 area, with the first breakout failing in early March and the second in early April. The March breakout failed following the shooting star candle and high volume, an instant and clear signal that the move lacked momentum, with a consequent sharp reversal lower on strong and rising volume and back to test the 101.25 level once again.
The second attempt was coupled with average volume and narrowing spreads, another classic sign of weakness in the move away, and once again the reversal was rapid and accompanied with high volumes. Since then, the USD/JPY pair has once again withdrawn back into its shell, and it is interesting to note the general decline in volumes, falling well away from the highs of late January, and reflecting the lack of interest from the big operators, at present, in driving this pair in any particular direction. For intraday traders this is a tough pair, with many easier currency pairs to choose. For longer term investors, the key is patience. If the floor of the current support level is breached with conviction, then expect to see the pair back to test the 100 level and below in due course, which will then set the alarm bells ringing at the BOJ. To the upside, caution is required, as we may see further fakeouts from this narrow range. Any move higher will need to be accompanied by strong and rising volume, coupled with wide spread price candles. But until any of that happens, it's a questions of being patient!
Whilst congestion phases can be frustrating, they are the spawning grounds of trends, and it is simply a question of time before the next major trend develops and builds from this region with volume price analysis leading the way.
By Anna Coulling