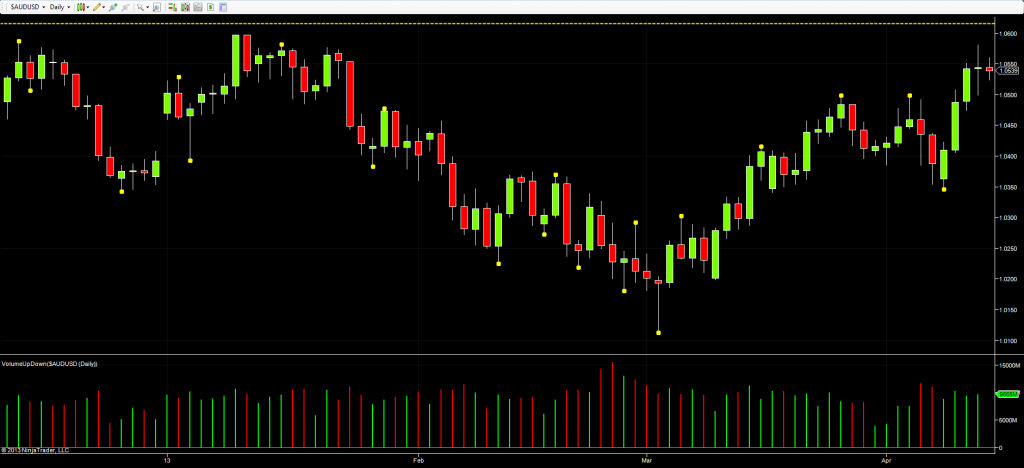 Are we seeing yet another failure at the 1,0600 region for the Aussie dollar? Yesterday's price action would certainly suggest this is the case, with the pair closing the day with a long legged doji candle, a classic signal of indecision, and therefore a strong signal of a potential reversal at this level.
The volume on the day was also high, and following three days of sustained gains with wide spread up candles, yesterday's price action has brought the recent bullish momentum to a shuddering halt.
The significant area of price resistance is shown with the yellow dotted line, which marks the level at which all recent attempts to break out have failed. This now looks ominous, and for bullish traders in the Aussie dollar a worrying signal. The key now is patience. If the pair do finally manage to breakout and beyond the 1.0600 level, then we will see a longer term trend develop from their, with this level acting as the catalyst and springboard higher. However, the price action over the next few days will be key.
A warning signal has been posted to traders and investors, and now we need to wait for a reaction. Any short term reversal lower should find support in the 1.0500 defined with the two pivot points below, and this may be enough to steady the ship, before the pair take another run at this obstinate level.
By Anna Coulling